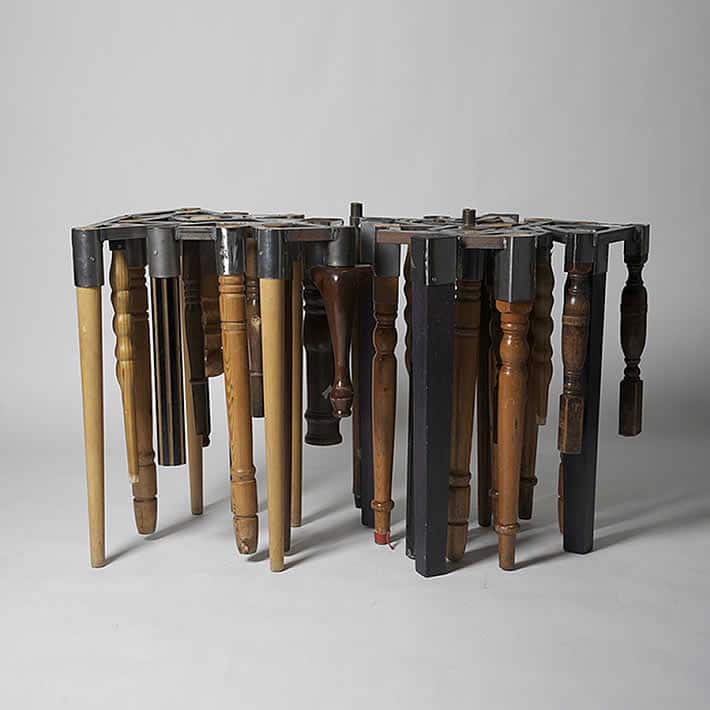 There are so many ways one can create upcycle design. One can use discarded material, waste or convert a vintage object into a new design object. And there's also a way to create upcycle design by using scrap or leftovers. By doing it this way the designer can give the used parts a completely different function that's still related to the original object. Here's an amazing example showing what I mean, a table called Eking It Out by Rupert Herring. This upcycle design piece has quickly become the most popular design on upcycleDZINE
Furniture legs create a maze
Glad to introduce another stunning upcycle design furniture piece that also uses legs. It's called 46 and is a creation by Niloufar Afnan, currently based in Beirut | Lebanon. 46 is a table made of 46 discarded legs from different tables. The legs were found across london and Niloufar had this idea to create a table out of them.


All legs together create the surface of the table. The surface of the table is partly formed by the top of the legs and the connecting steel tubes. The table is still functional although the maze might suggest otherwise. Nice thing about 46 are the legs, that once supported a table, now function as the actual surface of the table.


Photos © Niloufar Afnan

Niloufar Afnan is a multidisciplinary designer. She holds an MA in Furniture Design (2011) Central Saint Martins, London and a BFA in Sculpture (2008) Concordia University, Montreal. She designs jewellery, furniture and installations. Her work manifests itself between design and art, thereby challenging function and form. This results in upcycle design like 46, showing a design that challenges you to think about what you actually see and normally throw away.