Sunglasses, who hasn't got a pair? It's such a common item, most people probably own 2 or 3 pair. But once in a while, you buy a new pair. The reason is usually to protect your eyes from the sun's harmful UV rays or to look stylish. But whatever the reason is, it should be a conscious one. If you intend to buy another pair of sunglasses, it should be one of the eco-friendly brands that are out there.
Eco-Friendly Brands
Why should I look for an eco-friendly brand? Well, conventional sunglasses add unnecessarily to the pollution of the environment. And that's something you don't want to achieve. Most brands create sunglasses out of a combination of metal, plastic, paint, etc. Whenever a pair is tossed away, because it's broken or we just don't like it anymore, it usually ends up in landfills. And that only harms the planet.
Inspiring stories
After some surfing on the web, I was very glad to find some environment-friendly and socially conscious companies that create stylish eco-friendly sunglasses using recycled ocean plastic. I ask you to visit the websites of these brands to read their complete story on why and how they produce these sunglasses. Their stories are very inspiring. And besides that, some give back by supporting charitable causes.
Recycled and a bit upcycled
The eco-friendly brands I'm referring to, create recycled ocean plastic sunglasses. I hear you say: recycled? I thought this blog was only about upcycling. You're quite right. But in this case, I think it fits this blog to tell you what's happening in the world of sunglasses regarding our planet. And that's something upcycleDZINE is also about. And another reason why you're seeing this article is that there's a link to upcycling. These eco-friendly sunglasses your seeing here are all made out of fishing nets and/or plastic out of our oceans. So it's still a bit of upcycling, but mostly recycling. The waste that is used, is washed, shredded, turned into pellets, and molded into high-quality frames. That's a process I don't consider to be upcycling.
Guidelines
Make sure that the sunglasses you want to buy are produced by a real eco-friendly company. They use sustainable materials and ethical practices. Another thing they usually have is an environmentally based mission. These companies want to take responsibility for the environment and will do everything to ensure that they are using resources efficiently and fully.
Another thing that sets them apart from many other brands is that they commit to something else. Companies that really care about our environment usually do more than just selling those great sunglasses. They want to make an additional contribution to solve things or by giving extra help to local communities. Examples are, for example, that when a product is sold, a tree is planted. Or by removing a quantity of plastic [bottles] from the ocean.
Sunglasses with peace of mind
Regular visitors of upcycleDZINE know already by now that there are beautiful materials out there used for eco-friendly sunglasses. Not only reclaimed wood, fishing nets, ocean plastic, and aluminum are used. But also vinyl records and old broken skate decks. The end result is a piece of unique eyewear with a fantastic story.
It would be great, after reading this article, that when buying a new pair of sunglasses, you should at least make sure that they are environmentally friendly. That would make a difference. And who knows, you might soon be wearing fantastic sunglasses with peace of mind and a clear conscience. And to point you in the right direction, I've compiled a list of 6 eco-friendly brands.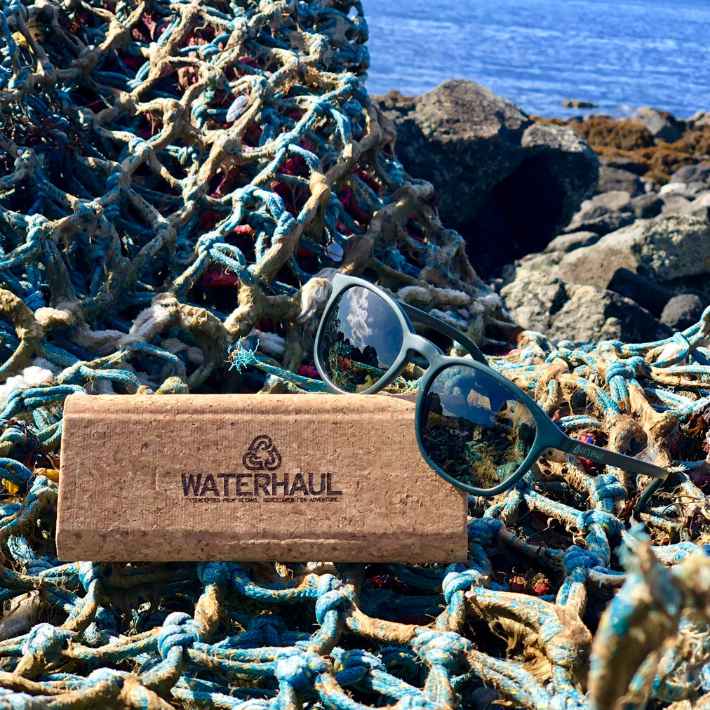 We intercept plastic from our oceans and transform it into high-quality, functional products for adventure and 'symbols for change'. Waste is simply a misallocated resource" – we value ocean plastic as unique material which tells a story.

Waterhaul
Our sunglasses enable us to share and spread our perspective of the world and fund long-term projects that can help protect vast territories of pure nature and empower hundreds and even thousands of rural entrepreneurs.

Karün
No form of ocean plastic pollution is more dangerous than discarded fishing nets. We're joining forces with Bureo who works with fishermen to prevent discarded nets from polluting our oceans and harming marine life.

Costa
Our aim is to create a global consciousness in regard to the issue of sea contamination through a stylish product that anybody can wear with pride. We don't produce glasses, but a statement of change.

Sea2see
By upcycling materials that were once lethal to marine life into something that is sustainable and useful, ReefCycle is unlocking a circular economy in eyewear. 50% of proceeds from ReefCycle will support WWF conservation work like advocacy for a Net-Free North.

ReefCycle
We chose to make timeless sunglasses as our first product because they are durable, useful, and, since we're dependent on word-of-mouth to spread our mission, we hope that by making something that is often carried around, they can also help create awareness.

Ocean Cleanup
Since you're here …
I have a small favor to ask. Thousands are visiting upcycleDZINE for upcycle design inspiration every month. Readers in more than 100 countries around the world are now able to support financially.
upcycleDZINE is a completely independent niche site, is very work-intensive, and offers tons of unique information for free.
To keep upcycleDZINE running, I'm asking you for your support.
Your contribution will allow me to:
– meet the hosting costs
– upgrade to keep track of traffic increases
– add new content, and keep improving the older content
– add new functionalities to this site
– improve how it works and how it looks
– and last but not least, my daily dose of coffee 🙂
Again, all contributions will be reinvested into the aforementioned associated costs of running this blog and will help ensure the ongoing quest for quality upcycle design.
Your kindness and generosity will be greatly appreciated and will give me the motivation to continue.
Every contribution, however big or small, is so valuable for the future of upcycleDZINE.
Support today from as little as $2 – it only takes a minute. Thank you.