Lots of objects and materials for upcycling can be found in the world surrounding you. Like in your home, on the street, junkyards and flea markets.
If you're looking for finished and amazing upcycle design products then you've come to the right place. Here on upcycleDZINE you can browse through more than 500 designs with links to the designer and their shop.
Another great place is a market/fair for handmade products. Earlier this year I went to the 'Original Market' in Leiden on Easter Sunday. This market is a 'lifestyle market' where you can find products with a story. From handmade to vintage, sustainable and fair trade. And there I met a few interesting upcycle designers. One of them was Tim Zaalberg with his brand Yucwood.
Advertising banner turns out to be very decorative
Another brand that caught my attention was TOEPAS creaties. An upcycle company founded by Dutch stylist, painter and designer Jolanda ter Hoeven. She was showcasing several interesting upcycle products and to me one stood out because of its minimalist design.


And that product is a fancy Bottle Cover vase made out of a used advertising banner. The first time I saw the flat product laying there I could not imagine that it was such a fun and original design piece. It's so easy to use, you just take an empty beer bottle, or any other smaller bottle, and slide the bottle cover over it. And voila, you've just created a unique vase. One of the attractive things about this design is that every vase is a one-off because of the used advertising banner and graphic print. The end result shows how decorative an advertising cloth can be.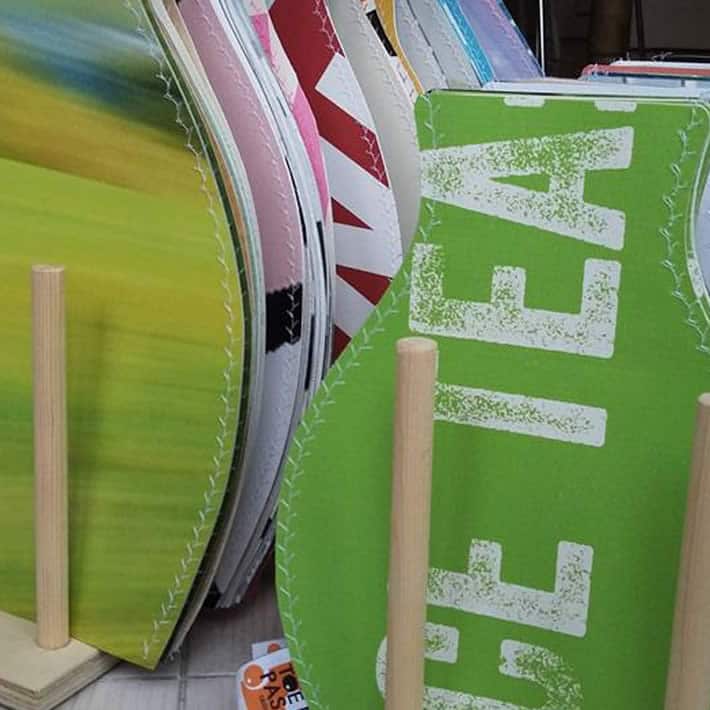 Photo © TOEPAS creatie

Jolanda ter Hoeven:
"Being 9 years old I already made earrings out of electrical wires because the colors were so beautiful."

To Jolanda the reuse of materials presents a challenge and every creation is unique. From an early age she made creations of all kinds of residual material. Eventually she chose the profession of a window dresser / stylist. Nowadays, she still designs and makes products of waste or leftover material.


Photos © Gilbert de Rooij

The product collection of TOEPAS creaties is very diverse because Jolanda always wants to discover new materials and their possibilities to design upcycle products, again and again. On her website you can find products made out of advertising banners, leather, wood and empty bottles.