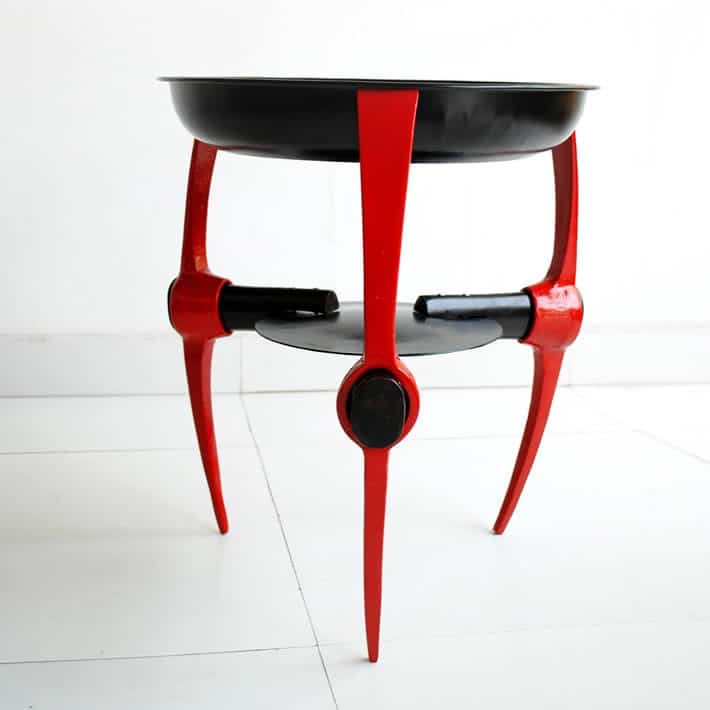 This blog, upcycleDZINE, shows what upcycle design is all about. To do this upcycleDZINE is always on the look out for original design made out of used or discarded objects and materials. Sometimes the published design is made out of an upcycled object that has already been featured, but in a completely different way. And once in a while it's an upcycle design piece or collection made out of an object not published before on this blog. Like last week when I found this very original furniture series.
Sturdy table legs made out of agricultural tools
The upcycle design collection featured today shows furniture made out of Agricultural Tools and Cooking Utensils. It's a design concept by Melvin Josy, director at Studio SQ1 and based in Delhi | India. Traditional Indian cooking utensils, like a Tawa, inspired him to upcycle them into stools and side tables. The wooden handles provide friendly and fun details.


And now on to an amazing and unique side table made out of pickaxes and a 'cement carrying bowl'. A pickaxe is a common agricultural tool which can be traced back to prehistoric times. It is used in a wide variety of areas ranging from agriculture to traditional mining. Never thought a pickaxe could become the main object in a piece of furniture.


Quite a contrast between the old function of the pickaxe and the new one. First it was used to plough through tough terrains and now it provides sturdy legs for a side table. A real eye-catcher in any interior.


Photos © Melvin Josy

This collection was part of a graduation project and shows what can be accomplished using the upcycle philosophy.
Since you're here …
I have a small favor to ask. Thousands are visiting upcycleDZINE for upcycle design inspiration every month. Readers in more than 100 countries around the world are now able to support financially.
upcycleDZINE is a completely independent niche site, is very work-intensive, and offers tons of unique information for free.
To keep upcycleDZINE running, I'm asking you for your support.
Your contribution will allow me to:
– meet the hosting costs
– upgrade to keep track of traffic increases
– add new content, and keep improving the older content
– add new functionalities to this site
– improve how it works and how it looks
– and last but not least, my daily dose of coffee 🙂
Again, all contributions will be reinvested into the aforementioned associated costs of running this blog and will help ensure the ongoing quest for quality upcycle design.
Your kindness and generosity will be greatly appreciated and will give me the motivation to continue.
Every contribution, however big or small, is so valuable for the future of upcycleDZINE.
Support today from as little as $2 – it only takes a minute. Thank you.