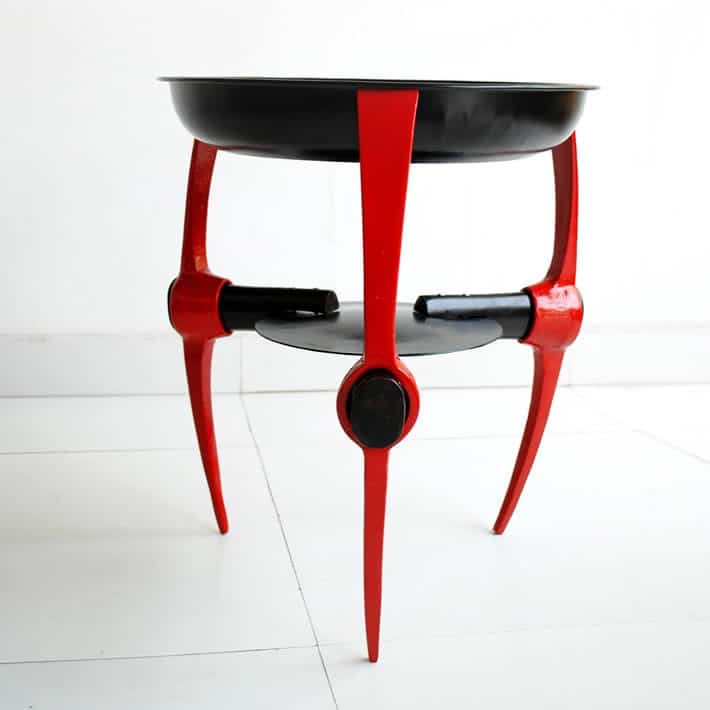 This blog, upcycleDZINE, shows what upcycle design is all about. To do this upcycleDZINE is always on the look out for original design made out of used or discarded objects and materials. Sometimes the published design is made out of an upcycled object that has already been featured, but in a completely different way. And once in a while it's an upcycle design piece or collection made out of an object not published before on this blog. Like last week when I found this very original furniture series.
Sturdy table legs made out of agricultural tools
The upcycle design collection featured today shows furniture made out of Agricultural Tools and Cooking Utensils. It's a design concept by Melvin Josy, director at Studio SQ1 and based in Delhi | India. Traditional Indian cooking utensils, like a Tawa, inspired him to upcycle them into stools and side tables. The wooden handles provide friendly and fun details.


And now on to an amazing and unique side table made out of pickaxes and a 'cement carrying bowl'. A pickaxe is a common agricultural tool which can be traced back to prehistoric times. It is used in a wide variety of areas ranging from agriculture to traditional mining. Never thought a pickaxe could become the main object in a piece of furniture.


Quite a contrast between the old function of the pickaxe and the new one. First it was used to plough through tough terrains and now it provides sturdy legs for a side table. A real eye-catcher in any interior.


Photos © Melvin Josy

This collection was part of a graduation project and shows what can be accomplished using the upcycle philosophy.