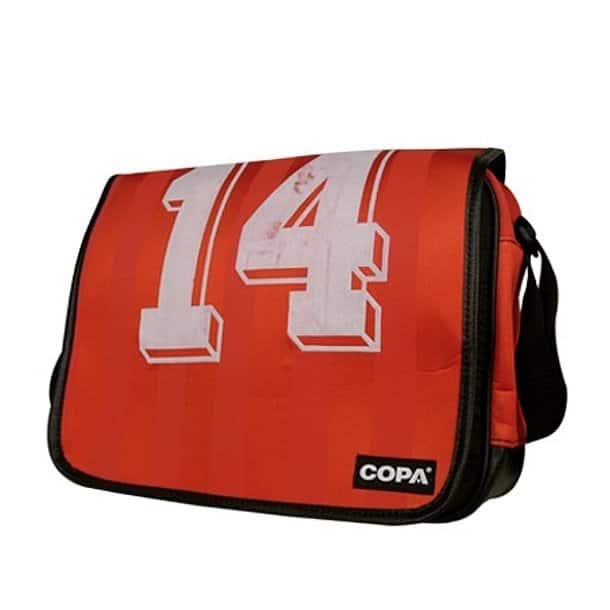 It starts this week. It? Yes, 2014 FIFA World Cup Brazil. For those who don't like or follow football/soccer, from 12 June until 13th July football fans all over the world enjoy watching World Cup matches. Here in The Netherlands things are already a bit crazy. Orange is our national color and houses are decorated with little flags and orange ribbons are covering the streets. And the Dutch team still has to play their first game. You should see what happens if the Dutch team wins a few matches, things get really crazy.
But enough about the World Cup, on with football and more precise, the shirts.
Football shirts make interesting bags
If there is a type of shirt that is interesting and gets thrown away, it's got to be a football shirt. They get thrown away because they are torn or the club has a new sponsor or the shirt is outdated. And they are interesting because of all the different graphics, colors and typography used. Just like the number '14' in the image above, the number that world famous Dutch football player Johan Cruijf used to have on the back of his shirt.
So what if one could upcycle this pile of shirts and turn them into unique bags?


Industrial Designer Mélanie Iten from Switzerland took a look at this concept and designed a collection of bags. With this concept she graduated in 2006 from the Dutch Design Academy Eindhoven, in The Netherlands. She teamed up with COPA, a Dutch company founded in 1998 when a football addict started with a small collection of traditionally produced heavy weight cotton football shirts and the collection has grown ever since. Nowadays the collection consists of different lines with retro shirts, jackets & pants, football inspired printed T-shirts & sweaters, baby shirts, functional football apparel, footballs and…. upcycled bags. Products are 'Made in Europe'.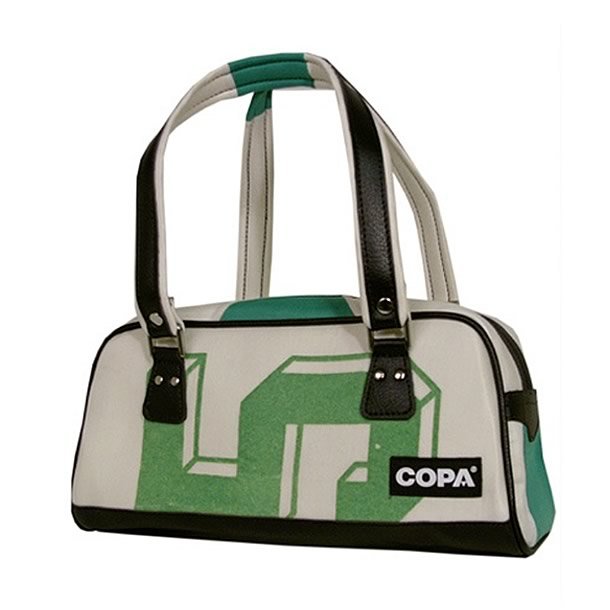 Photos © COPA

"The bags are made out of vintage shirts and are hand selected at clothing recycling companies. After the washing procedure the shirts are hand cut, stitched, fixated on firm inner layers and formed into a durable bag. The result: an exclusive recycled bag one of its kind. For now the collection consists of four different designs: a practical courier bag, a handy shopping bag, a stylish lady's bag and an original football bag."
Product by COPA | Design by Mélanie Iten