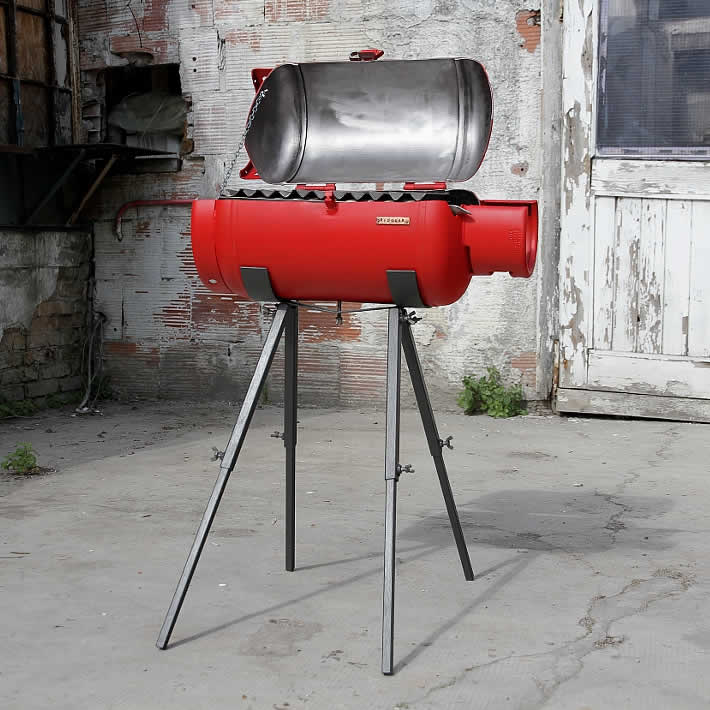 Being a regular visitor at upcycleDZINE and/or reader of the newsletter, you may have noticed that some objects are more popular than others. Looking at quite a few impressive upcycle design pieces, you will find several designers that use the same object. Just have a look at wooden barrels to see what I mean.
There are also objects that you wouldn't expect to be suitable for upcycling. For example a gas tank. A short while ago upcycleDZINE posted an impressive design series made out of gas tanks by junction studio.
A barbecue that shows care about the environment
Coincidence or not, this week I stumbled upon another design that is made out of upcycling a gas tank. It's an amazing piece called Barbecue Paradox, designed by Redolab. An Italian design company, based in Venice | Italy, came up with this idea to create a very cool looking barbecue.
Seeing this design for the first time you wouldn't expect it to be an upcycled product. But then there's that recognition. You suddenly see what the origin of the design is. A beautiful Ferrari red coloured gas tank mounted on four thin but sturdy steel legs. Everything you need is inside the closable and easily portable tank. Its height is 65 cm, weight 18 kg.


Redolab:
"FOR US SIMPLE OBJECTS AND EVERY KIND OF WASTE MATERIAL ARE RESOURCES TO WHICH A NEW LIFE IS GIVEN BY THE WISE HANDS OF THE ARTISAN'S CREATIVITY."
Redolab is created out of a passion for DIY, for handicrafts, for things done by hand and the awareness that every choice has an impact on the environment. "We interact with local companies and with those who already deal with collection and disposal of waste to create a virtuous chain and take the 'philosophy' of upcycling into a company that cares about the environment and the enhancement of our territory."


Photos © Redolab

Barbecue Paradox is a design created out of a great paradoxical concept: make a barbecue out of gas tank! And I think the Redolab team again did a great job with showing us what upcycle design and its [added] value are all about.
If you're into cooking and like this Barbecue Paradox, well than there's another upcycle design called Companio by Barendsen & Diepenbrock. An interesting creation where a fire extinguisher is turned into an stunning table grill.
Since you're here …
I have a small favor to ask. Thousands are visiting upcycleDZINE for upcycle design inspiration every month. Readers in more than 100 countries around the world are now able to support financially.
upcycleDZINE is a completely independent niche site, is very work-intensive, and offers tons of unique information for free.
To keep upcycleDZINE running, I'm asking you for your support.
Your contribution will allow me to:
– meet the hosting costs
– upgrade to keep track of traffic increases
– add new content, and keep improving the older content
– add new functionalities to this site
– improve how it works and how it looks
– and last but not least, my daily dose of coffee 🙂
Again, all contributions will be reinvested into the aforementioned associated costs of running this blog and will help ensure the ongoing quest for quality upcycle design.
Your kindness and generosity will be greatly appreciated and will give me the motivation to continue.
Every contribution, however big or small, is so valuable for the future of upcycleDZINE.
Support today from as little as $2 – it only takes a minute. Thank you.