Sometimes I come across upcycle design made out of an object that brings back memories. And not just memories from a few years ago, no going back to my childhood. And that's also one of the nice, fun and fascinating aspects of upcycle design. There's always a history and a story to be told. And that's why upcycle design often is so attractive and impressive.
The beauty of colanders
The upcycled item I saw this time was a kitchen utensil my mother used when I was a kid. I remember her having this shiny foldable steel colander which looked so cool and was great because of all the parts you could play with and collapse into a compact object.
Never thought this older existing object would inspire to create a magnificent pendant lamp collection showing the beauty of colanders. And a designer that just did that is Nadia Belalia.



Nadia Belalia:
"I admire objects of an extreme simplicity, objects of everyday life which aspire to a certain kind of elegance, the reincarnation of those into new forms."
Back to that kitchen utensil. The Maké Maké pendant lamp is made out of a colored colander whose original function was to use as a food colander or vegetable steamer basket. Nadia took those recognizable perforated steel plates and attached them to a laser-cut stainless steel structure and bent the 'wings' into this beautiful round form.
The colander collection is lighting showing an interesting combination of softness and strength. Together the perforated parts have countless holes that create a very warm and friendly diffused light.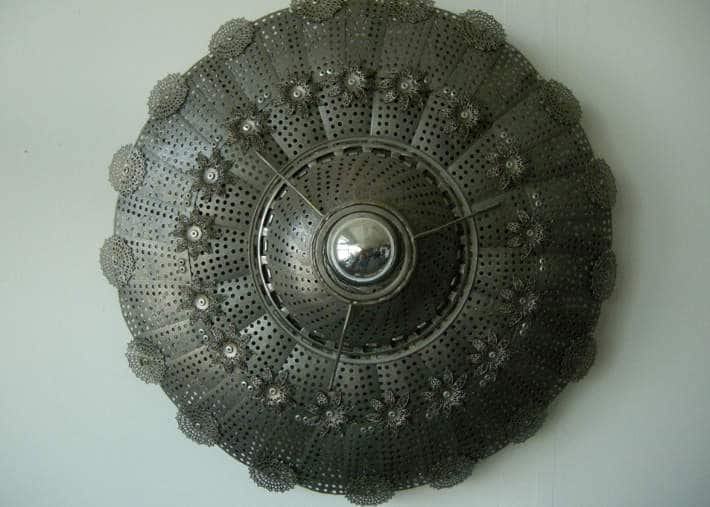 Since you're here …
I have a small favor to ask. Thousands are visiting upcycleDZINE for upcycle design inspiration every month. Readers in more than 100 countries around the world are now able to support financially.
upcycleDZINE is a completely independent niche site, is very work-intensive, and offers tons of unique information for free.
To keep upcycleDZINE running, I'm asking you for your support.
Your contribution will allow me to:
– meet the hosting costs
– upgrade to keep track of traffic increases
– add new content, and keep improving the older content
– add new functionalities to this site
– improve how it works and how it looks
– and last but not least, my daily dose of coffee 🙂
Again, all contributions will be reinvested into the aforementioned associated costs of running this blog and will help ensure the ongoing quest for quality upcycle design.
Your kindness and generosity will be greatly appreciated and will give me the motivation to continue.
Every contribution, however big or small, is so valuable for the future of upcycleDZINE.
Support today from as little as $2 – it only takes a minute. Thank you.