Back in December 2012 upcycleDZINE featured the CONNECT 13 by Facaro. A chandelier, part of a collection of designs, made out of bicycle chains and other parts. Impressive chandeliers by a designer named Carolina Fontoura Alzaga [Caro].
Last year during my visit to the Dutch Design Week in my beloved Eindhoven, I had a deja vu. There, hanging from the ceiling, where immense and heavy chandeliers. And they were not by Facaro.


No they were designed and made by Laurence van Seventer, a Dutch designer and founder of Lolo Palazzo. Caro and Laurence both show chandeliers made out of the same materials. But they both show different designs. Caro has chandeliers where the chains are bundled. Laurence on the other hand uses the chains more like a curtain which gives the chandeliers a completely different look.
Intuition and passion lead to bicycle chain chandeliers
Laurence van Seventer was born and is currently working in The Hague, The Netherlands. Having held many different jobs in the creative sector, including in interior design, life experiences and changes led her to start working on an idea she had toyed with for a very long time: to design and produce industrial chandeliers through welding and plasma cutting procedure.
About 2,5 years ago, Laurence settled herself in a new studio, surrounding herself with the right equipment and started working on her first design: a tough but graceful industrial chandelier. After a short stint of work experience in a metal factory, where she learnt the basics of welding and plasma cutting, she was ready to develop the new-found knowledge and start applying it to make her ideas come to life.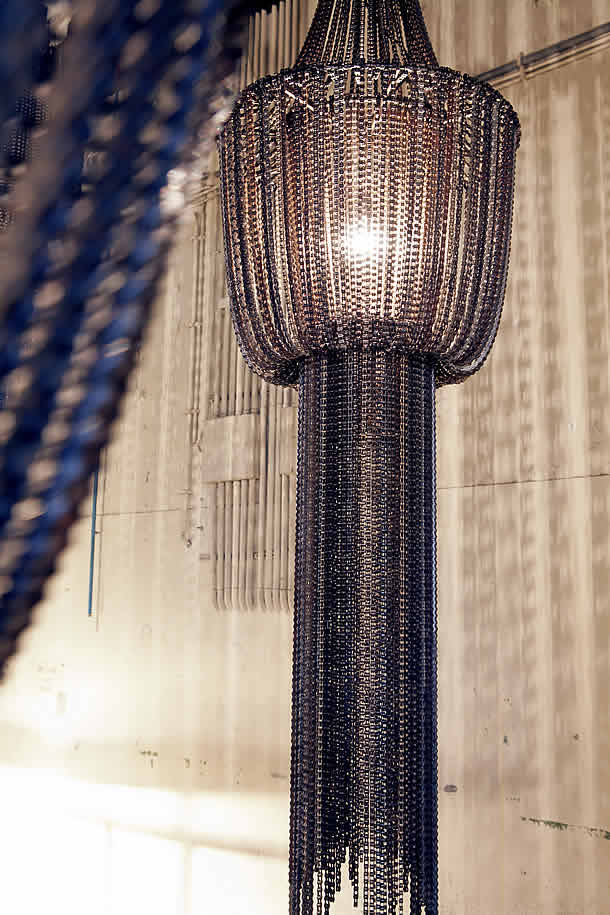 Having started working with sheet of steel, Laurence eventually turned to upcycled materials adding another accent to the idea of tough and graceful. She now uses upcycled materials such as bicycle chains (how very Dutch!), motorbike chains and springs, and other refuse she found trawling through steel and car demolition companies, metal factories, bicycle repair shops and storages throughout the country.


Photo © Lolo Palazzo

Like Laurence, her work is growing organically. One can never predict the final outcome of each of her compositions. She works intuitively and passionately which can be seen in the end product. The creativity and the constant learning process means one will not know in which direction Laurence's work will move next. But one thing is for sure, it will be tough, graceful, pleasing to the eye and unique.