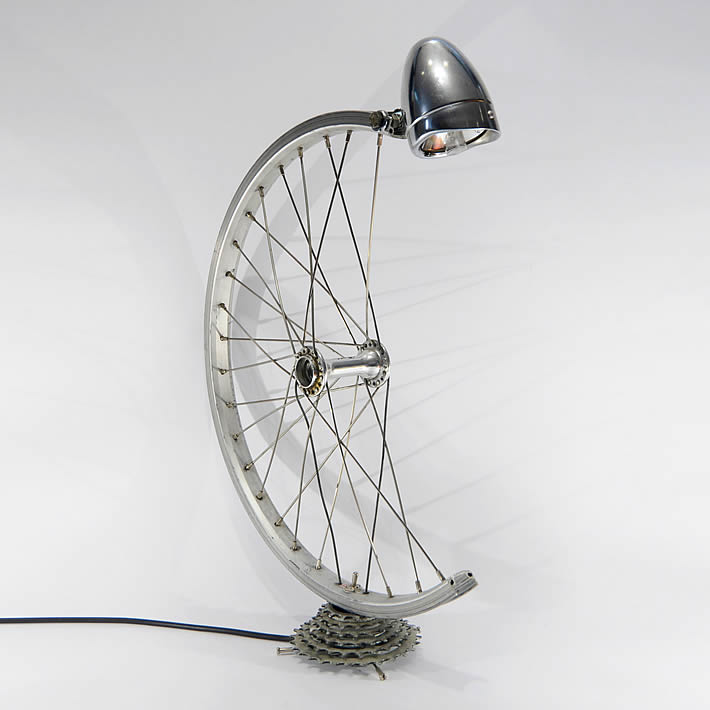 Okay, most of the upcycle items that I post on my blog are about lighting. I've always loved light, reflection and the design of a lamp. It's one of my 'weaknesses'. On my latest quest for upclycle design I came across another amazing piece of lighting made out of bicycle parts. A bicycle is quite popular in the world of upcycle design. Almost every part can be used for upcyle design. Let's take a look at a bicycle wheel. I've already shown other lighting design that makes use of it, for instance the 'Rim Lamp' by DLF PRODUCTDESIGN or Lighting Wheel by Mohamed Nabil Labib.
Creatively upcycled bicycle parts
So for all bicycle lovers and upcycle design enthusiasts, here's another amazing desk lamp made out of bicycle parts. This creation is designed by Joe Goldstein, founder of Etsy store Bespoke Spokes. The most striking part that's used for this design is the wheel, actually rim. The rim is connected to several gear wheels that function as a lamp base. Mounted at the end of the rim there's a nice old bicycle lamp.

The neat thing about this lamp is that it's almost entirely made out of bike components. The rim is used in such a way that it looks like a giant letter C or a sort of harp. All in all a very friendly, original design and real eye-catcher with an on/off switch functionally placed in the lower part of the rim. It does't matter which angle you look at the desk lamp, its' always interesting.

Photos © Bespoke Spokes

As someone living in the Netherlands I've grown up using bicycles. I guess that's why I'm fascinated by what people do with old bicycles or bicycle parts. I've written it before, but many bikes end up on landfill each day, resulting in a huge pile of bike parts. That's why I'm so happy to see that there are a lot of designers having great ideas on what to do with these discarded bicycles. It can be by designing upcycled products or by building a bicycle from old parts. In both cases great examples of upcycle design.
Design by Bespoke Spokes