Like many of you know by now, I've always loved light, reflection and the design of a lamp. And fortunately lots of upclycle designers create amazing and beautiful lighting pieces. And quite a few designers use bicycle parts. Almost every part of a bicycle can be used for upcyle design. Two weeks ago I've shown a Bicycle parts desk lamp by Bespoke Spokes. This design was proof of how popular lamps made out of bicycle parts can be.
Desire to create bicycle parts lamp
And here's another designer showing how stunning upcycled bicycles are. It's an upcycle design collection of table lamps made out of discarded bicycle parts. The design is by Velolumiere and his creations are almost like art.

Velo Lumiere is French for 'bike light': "As a lover of old parts, I get transformed and reused objects only from the bicycle, hence the name 'Velolumiere'. My creations started to emerge during 2010 winter, the desire to create something with bike parts hanging deep in my workshop, which I did not manage to bring myself to throw away. I try to create the most advanced light that works, I will admit that I seek the best parts, reflected in the combination of materials and makes it a point of honor to avoid repetition."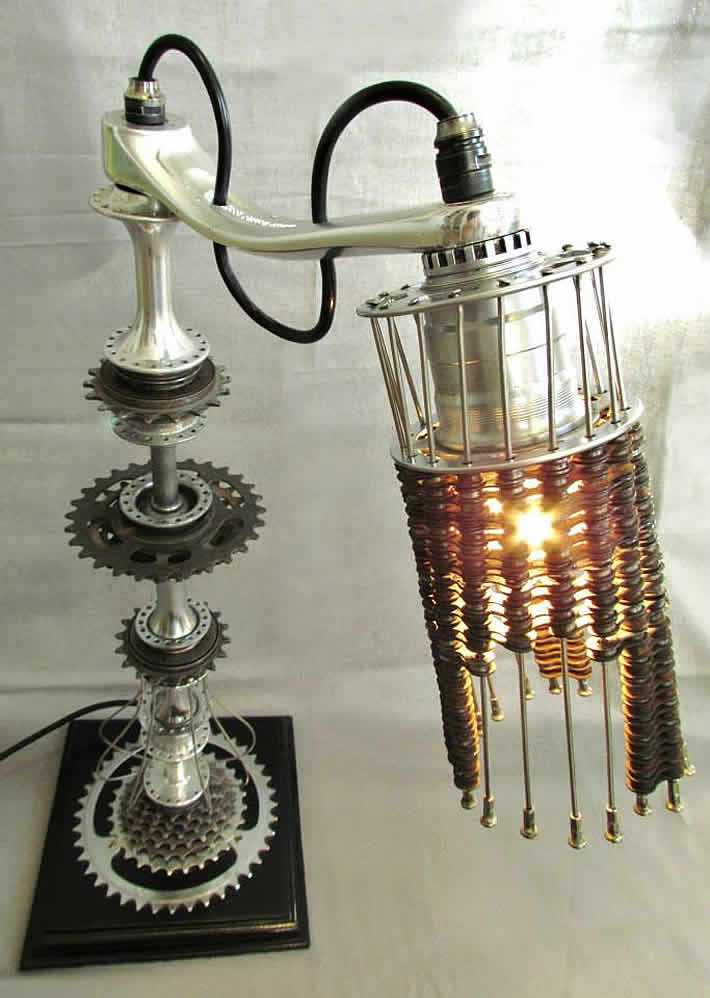 Photos © Velolumiere

I've said it before, as someone living in the Netherlands I've grown up using bicycles. I guess that's why I'm fascinated by what people do with old bicycles or bicycle parts. Many bikes end up on landfill each day, resulting in a huge pile of bike parts. That's why I'm so happy to see that there are a lot of designers having great ideas on what to do with these discarded bicycles. It can be by designing upcycled products or by building a bicycle from old parts. In both cases great examples of upcycle design.
If you want to see more upcycled bicycle parts, have a look at this post: 11 upcycle design ideas using bicycle parts .
Since you're here …
I have a small favor to ask. Thousands are visiting upcycleDZINE for upcycle design inspiration every month. Readers in more than 100 countries around the world are now able to support financially.
upcycleDZINE is a completely independent niche site, is very work-intensive, and offers tons of unique information for free.
To keep upcycleDZINE running, I'm asking you for your support.
Your contribution will allow me to:
– meet the hosting costs
– upgrade to keep track of traffic increases
– add new content, and keep improving the older content
– add new functionalities to this site
– improve how it works and how it looks
– and last but not least, my daily dose of coffee 🙂
Again, all contributions will be reinvested into the aforementioned associated costs of running this blog and will help ensure the ongoing quest for quality upcycle design.
Your kindness and generosity will be greatly appreciated and will give me the motivation to continue.
Every contribution, however big or small, is so valuable for the future of upcycleDZINE.
Support today from as little as $2 – it only takes a minute. Thank you.