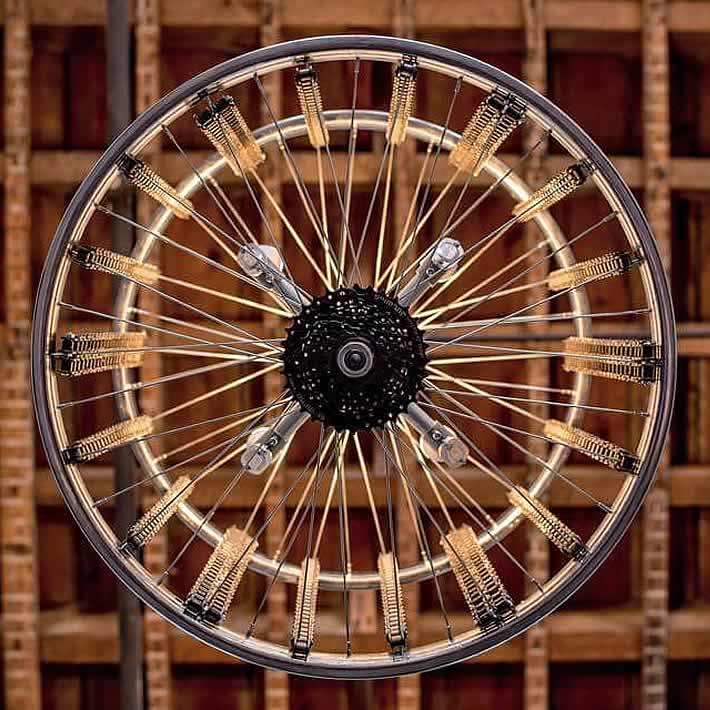 Being someone born and raised in the Netherlands it comes as no surprise that I like riding my bicycle. And because of that I also like design made out of upcycled bicycle parts. You can find quite a few incredible designs here on upcycleDZINE. Ranging from upcycling handlebars, inner tubes, saddles, wheels, rims, and chains. Have a look at designs by Facaro and Lolo Palazzo. Two designers that create similar stunning upcycle design chandeliers using rims and chains.
Lampshade form created with bicycle rim
Surfing the web I always stumble upon other lamps made out of these bicycle parts. But most of the time they lack things that appeal to me like style and/or distinctiveness found in the ones listed above. Until some time ago when I found another upcycle lighting design made out of these same objects, but in a different way. The design is another Bicycle Rim Chandelier, but less bombastic. This creation is by Design Distressed. An Etsy shop founded by Anthony Acosta, based in Midland | MI, United States.


The chandelier is made from discarded bicycle rims and chains. A perfect chandelier for a foyer or dining room. It has a great modern and industrial look. Nice touch are amazing patterns on the walls and ceiling created by the spokes and chains. The piece shown here is approximately 38 cm in height and 61 cm in diameter.


Anthony Acosta:
"We're an independent, creative lighting and furniture design studio that looks beyond the confines of four walls and considers overall design. Using salvaged, repurposed, and upcycled materials, our team patiently researches possible designs, deeply considers every situation, pursues a creative solution, and expertly makes it real."

Photos © Design Distressed

To me the Bicycle Rim Chandelier is very attractive because of its similarity with a lampshade. Just look at the outer shape and you know what I mean. Nice touch are the four candle like bulbs in the middle of the chandelier.