Okay, not exactly the season of the year to think about a bench for the garden. But today's upcycle design bench will look great inside or outside. It's a sturdy looking piece of furniture that shows a beautiful part of history. The design is called 'Blue Collar Bench' and is designed by Roque Castro, founder of Yesterday Reclaimed, based in Culpeper | USA.
Vintage pickup tailgate gets second life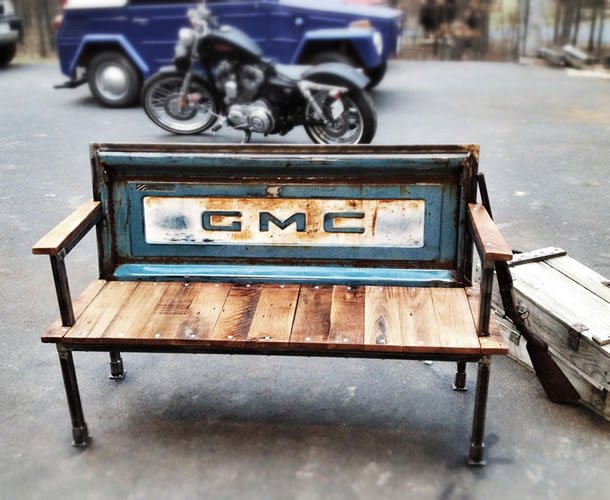 "Inspired by memories of sitting on the tailgate of my grandpa's old pickup truck sipping an ice cold coca-cola after a hard day of work on the farm. A Blue Collar Bench is made from an old tailgate, framed in square tubing steel and skinned with antique barn wood. This relic came from an era when trucks were worked hard and worked to the bone."


Photo © Yesterday Reclaimed

All Blue Collar Benches are hand-crafted to order, one-of-a-kind, and customizable. You can even let Yesterday Reclaimed know if there is a particular make, or model of pick-up truck that inspires you and they'll go out and find it! They can even attach a bottle opener.
For a person like myself who loves typography and graphic design, these benches are just amazing. Just look at the typo, color and the graphic marks by years of use. What a fantastic idea to give pickup tailgates a second life.