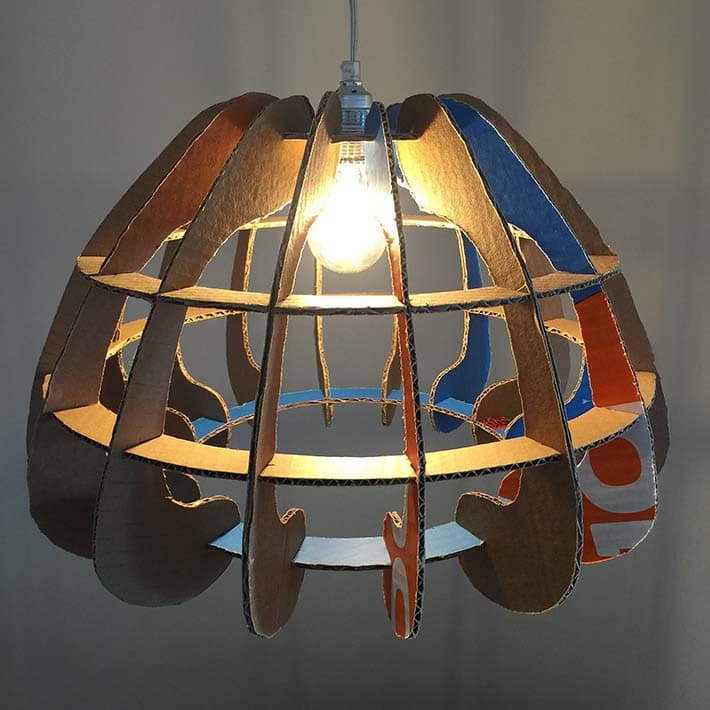 A few months ago I started experimenting with corrugated cardboard I had saved from old boxes. I really love this beautiful material. Every time I want to throw a box into the paper recycle bin, I've got to cut the cardboard into pieces or crush it to make it smaller. And doing that made me feel kind of 'ashamed'. Yes, I know that sounds strange, but I just felt a need to do something more useful with it.
So after posting amazing upcycle design using cardboard on my blog upcycleDZINE, I wanted to give it a go myself.
Handmade cardboard lampshade prototype
The upcycle design lampshade in this post is called 'BoxCrown', width 47 and height 30 cm. The idea behind my lampshade was to design it as a DIY version, which would be easy to ship to the customer. People should be able to put all the parts together and assemble their lampshade. But first I had to create a prototype to see how things would turn out. To start things off I made a template using Adobe Illustrator. Not the perfect software for this exercise, but it was okay for now.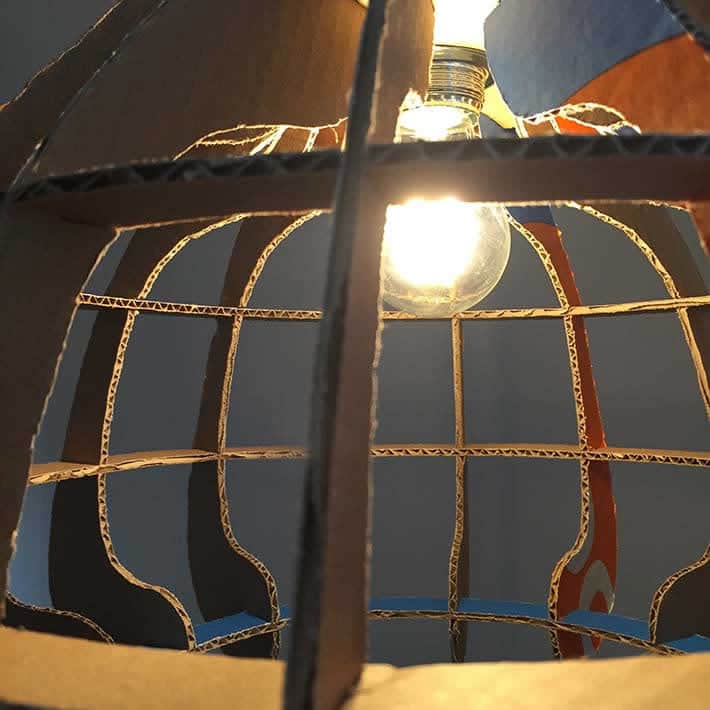 After printing the template I used a non-permanent glue spray to stick it on cardboard. I had saved a great box by a company called CoolBlue with nice colorful prints on it. And these prints make it so interesting to me. You never know how the lampshade is going to turn out, every lampshade is unique.

BoxCrown is suitable for both pendant lamp and floor lamp and for these photos I've used a LED Edison style light bulb. Great bulbs because they're energy efficient and don't get hot. This prototype was entirely made by hand. No electrical machine was used. I first used a precision cutter and later on I started using a fretsaw which is designed to make very fine and delicate cuts. Still this endproduct [prototype] shows rough edges, but it also shows the design I had in mind. The final product is also going to be treated with a fire retardant spray.
A few weeks ago I visited a company with a lasercutter and tested some cardboard pieces with different thicknesses. Turns out that very thick 7 mm. cardboard, which I hoped to use, was too thick for the machine. Cardboard bits caught fire and the edges got a black burned smudgy layer. All in all not what I was looking for.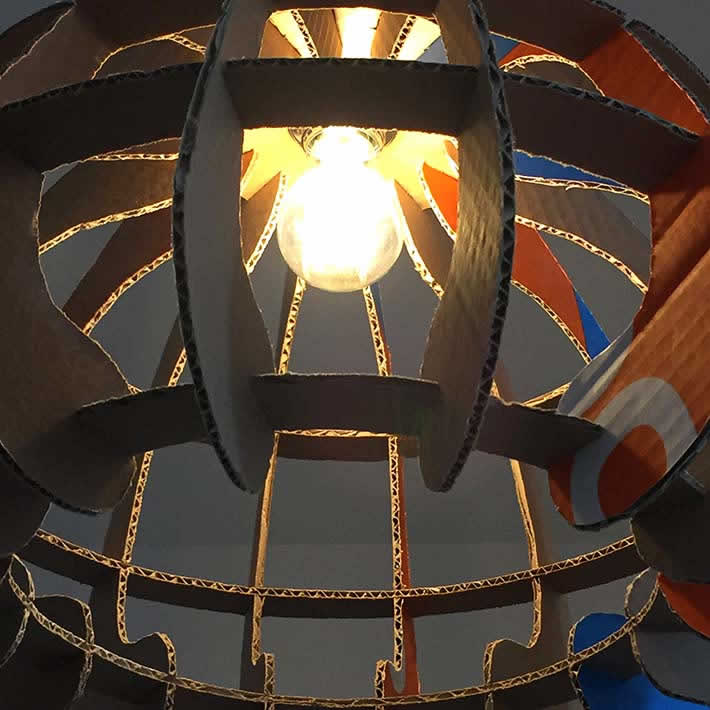 Photos © Gilbert de Rooij

Of course I could create this lamp using MDF [Medium-density fibreboard], very popular now, but that wouldn't be upcycling. That's why I'm still looking for another more successful way to create a cleaner cut version of this design.