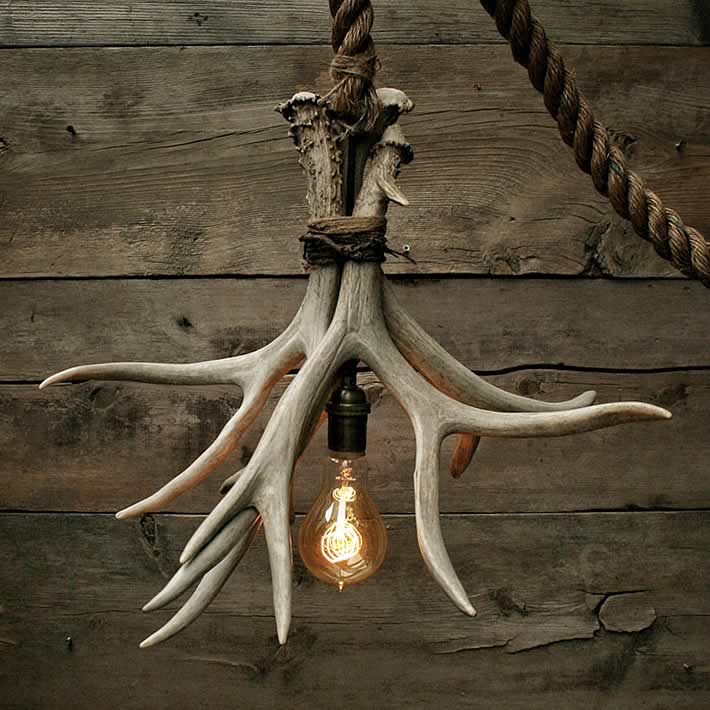 Nights are getting darker and the mornings are getting colder. Winter is approaching. A season often associated with snow, a warm cabin or lodge with family/friends sitting around a cosy fire. It almost sounds like a perfect ad. Most of the time people tend to make associations when they see something. And that's what happened when I saw the chandelier in this post.
Use of shed antlers results in unique lamp
When I saw this lamp I immediately pictured it hanging in a lodge, situated in the Rocky Mountains and surrounded by snow. Still on my to-do list! The design is called Cabin Lit Chandelier and is a product by Moon Stone Fox, founded on Etsy by Katie and Zac Ruiz, based in Aztec, NM | United States.


Zac is the one behind the lamps: "It all started with me making a few lights for our home, and I found that I really enjoyed making them. My mission is to make cool one of kind pieces for your home!"antler shed
Cabin Lit Chandelier is made out of 3 Grade A shed antlers. They are securely bonded and wrapped using robust and rustic metal twine for aesthetics. The electrical cord runs through the antlers and uses an antique Brass Socket.


Katie and Zac Ruiz:
"The best part about the light is that every angle has its own look making this a truly unique piece!"
I can imagine that some visitors may think this chandelier is kind of creepy because of the antlers. But these antlers have been dropped and have not been taken as a real hunting trophy. in the United States, the middle of December to the middle of February is considered shed 'hunting' season, when deer, elk, and moose begin to shed.


Photos © Moon Stone Fox

It's a great way of using these incredible and unique objects that otherwise would be laying around. And surfing the web thought me that chandeliers made out of shed antlers are very popular.