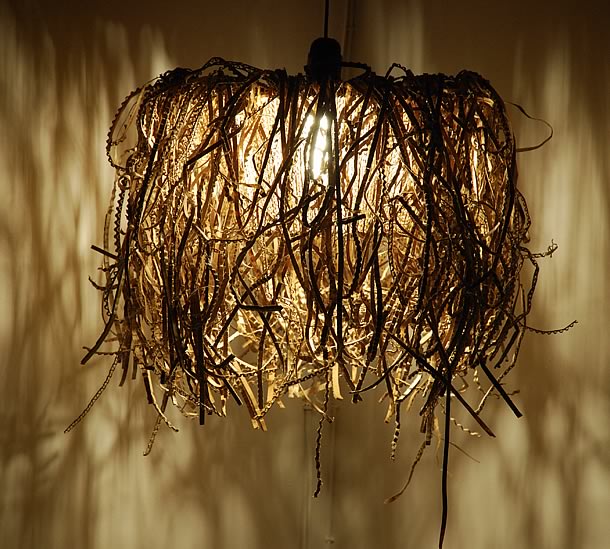 Cardboard is a very inspiring material to work with. Cardboard reveals its true character when it's cut and one can see the layers. And when you use this layering in lighting design it shows a fantastic warm glow. Earlier here on upcycleDZINE you could see upcycle design that makes use of the layering in cardboard, Scraplights by graypants. They have a big collection of cardboard lamps.

The collection of upcycle lamps featured here today is by Mhoz, based in Montfa [near Toulouse] | France. A very playful and different approach from graypants. It's beautiful to see what these scrap strokes do with light and shadows. The collection seems like it has been influenced by African culture. It just reminds me of masks and other objects that are used in Africa.
Cardboard shows its translucent or perforated texture
Mhoz: "The idea of ​​the shape of the object often comes from the material used. Scrap from industry or gleaned from nature. Materials are chosen for their color and translucent or perforated texture. These objects are transformed by the light passing through them and they cut the space around by playing with shadow and light."

Photos © Mhoz

Mhoz is the hallmark of decorative objects, designed for indoor use. These creations combine aesthetic and ecological reasons.
Single parts or small series, they are all made ​​entirely by hand in Montfa, department Ariège.
And doing so results into beautiful eco-friendly examples of upcycle design.
Design by Mhoz