The more frequent visitors at upcycleDZINE, will have noticed by know that some upcycled objects pop up more often on this blog than others. They're just more popular and more versatile than others. For instance, look at a clothes hanger. An everyday object that's manufactured in several designs and materials. The wooden version is the most used one for upcycling.
Here are just two fantastic examples: Oh Man, it's a Ray! by Ingo Maurer and the HANGERS TABLE by Federica Sala.
Craftsmanship combined with clothes hangers
And here's Clothes Hangers Pendant Lamp made out of upcycling those wooden hangers. I've seen several clothes hanger lamps, but this one looks so simple and minimalist and at the same time stylish.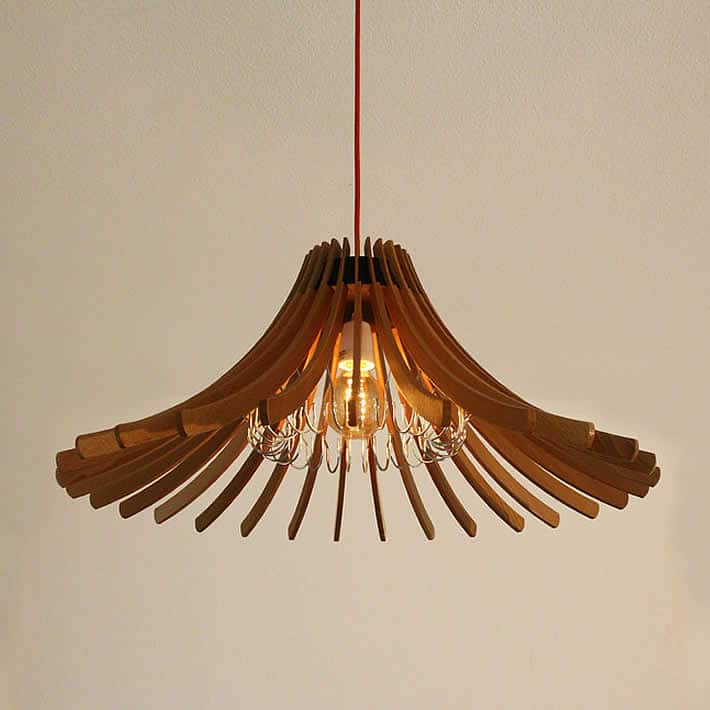 The design is by Sperholz, founded by Henrik Speher, born in Dresden | Germany and now living in Dreumel | the Netherlands since 2014. Henrik is trained as a church organ builder with 20 years work experience in this profession. Yet all the time his passion was to combine new ideas and design with traditional craftsmanship. The last few years he uses this passion as cabinetmaker.


The clothes hanger lamp came about because Sperholz was asked by a customer to come up with an individual lamp in the bedroom. Together they came up with the idea to use clothes hangers. The creativity combined with Hendrik's craftsmanship resulted in this cute pendant lamp using 30 hangers.


This clothes hangers lamp shows that Spehrholz is all about beautiful wooden designs, handcrafted and produced with high quality. The thing I like most is the way the metal hooks form a beautiful cirkel in the middle. It adds a very nice, and in a way functional, touch to this design.