If there is one product that is thrown away in large amounts, it must be a tyre. Everybody has seen these pictures of heaps of auto tyres. A good thing is that lots of them are recycled. But an even better thing is that some people take a tyre to upcycle them into a great object. One of those is the Tire Ottoman by Nikki, a popular and fantastic DIY.
I've said it before, but I think one of the best ways to upcycle is to start a project with a local community or artists and design and produce upcycle design together. This way it's a win-win-win situation. The locals are better off, the designer benefits and the consumers get a unique product.
A tyre that's part of a cycle
And last weekend I saw a project like this, a very colorful and stunning project called The Retyrement Plan [Fb] by Anu Tandon Vieira, Mumbai | India. They make fantastic looking and comfortable furniture out of old scooter, car, bus, truck rubber tyre and every other well traveled wheel! The twines used are cast offs from the garment industrie and used for creating the woven upholstery together with recycled plastic wrapper waste. Additional frames are made from old wood, canes or bamboo.

So what are the thoughts behind The Retyrement Plan? "Connecting the dots to make a new product from old stuff and making it so that our hearts can be a little lighter and brighter as we look out into our lives. As this conscious and funky product is being created, a variety of people connect and benefit across vast social and cultural divides. They contribute towards an idea which is all the richer thanks to the differences shared. Lovingly held in hands, colorful twine rearranged, weave a story for a myriad people who see the shimmer in the dust of this incredible land." This according to Anu Tandon Vieira.
"Retyrement Plan is a symbol of our times. Each and everyone of us will consume contemporary design which is created purely from old materials….the current endless waste tonnage, with no place else to go has to return to the new necessity of Earth's evolution…. Reuse, Reduce and Recycle. Upcycle – wholecycle – anycycle, everything that flows in a cycle has a place in our lives .."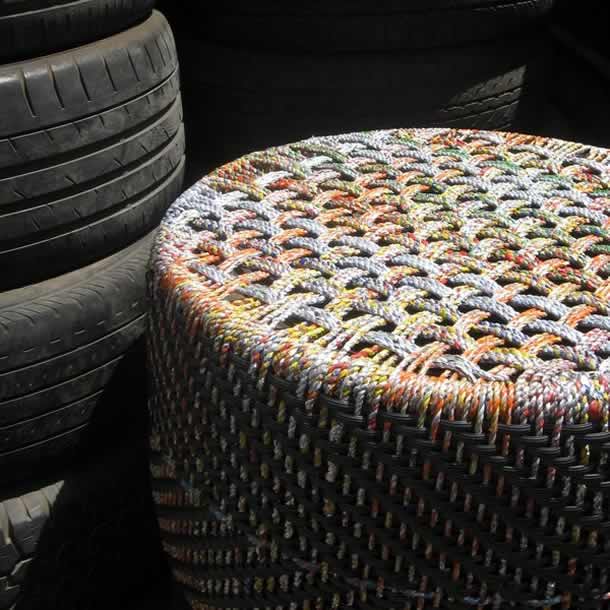 Photos © The Retyrement Plan

Hopefully these beautiful thoughts by Anu Tandon Vieira make you think again how we all live and consume on this wonderful planet.
Let the following sentence linger in your mind for a while: "Everything that flows in a cycle has a place in our lives". Nice!
Since you're here …
I have a small favor to ask. Thousands are visiting upcycleDZINE for upcycle design inspiration every month. Readers in more than 100 countries around the world are now able to support financially.
upcycleDZINE is a completely independent niche site, is very work-intensive, and offers tons of unique information for free.
To keep upcycleDZINE running, I'm asking you for your support.
Your contribution will allow me to:
– meet the hosting costs
– upgrade to keep track of traffic increases
– add new content, and keep improving the older content
– add new functionalities to this site
– improve how it works and how it looks
– and last but not least, my daily dose of coffee 🙂
Again, all contributions will be reinvested into the aforementioned associated costs of running this blog and will help ensure the ongoing quest for quality upcycle design.
Your kindness and generosity will be greatly appreciated and will give me the motivation to continue.
Every contribution, however big or small, is so valuable for the future of upcycleDZINE.
Support today from as little as $2 – it only takes a minute. Thank you.