Lamps! You can find a lot of them here on upcycleDZINE. And a material that's quite popular too on this blog is copper. For some time now there's a trend to use copper, and it hasn't stopped yet. Not only as a material but also as a beautiful warm color. Copper is a material with a unique look and feel. Just have a look at this upcycle design piece that uses copper, a stunning table called Cupro.
Copper pipe used for functional and aesthetic lighting design
Back to lighting. Copper and lamps seem to be a great combination. The pipes are both functional and aesthetic. Just like in the Copper Pipe Lamps by South Korean upcycle design company PIPE STORY[Ig].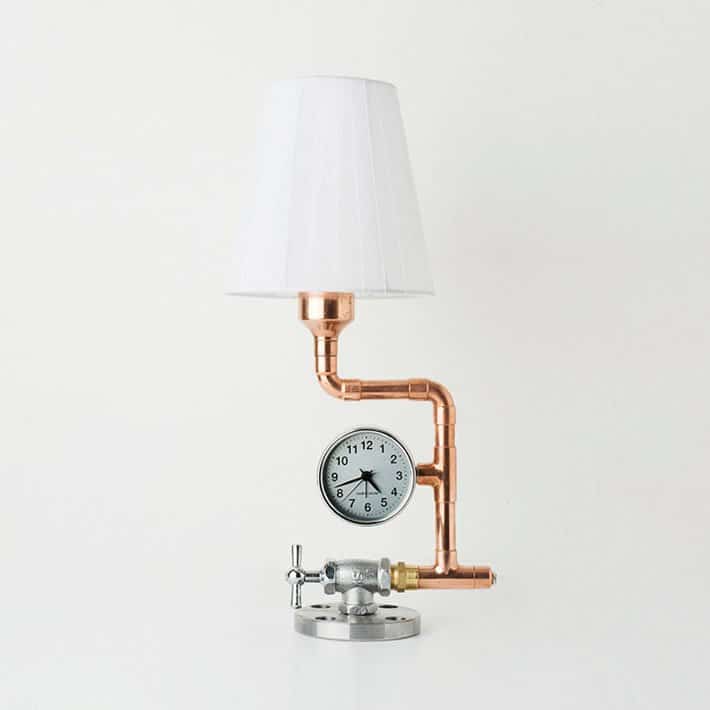 The table lamps are handmade and created by using several materials like a clock, copper pipes and a valve/tap. The clock can be used as an alarm clock and the valve functions as on/off switch, which I think is pretty cool. Next thing interesting is the placement of the power connector in such a way that it is part of the design. The Copper Pipe Lamps use a LED lightbulb and come with an AC to DC Adapter Voltage Converter: 12V 2A for 100-240V.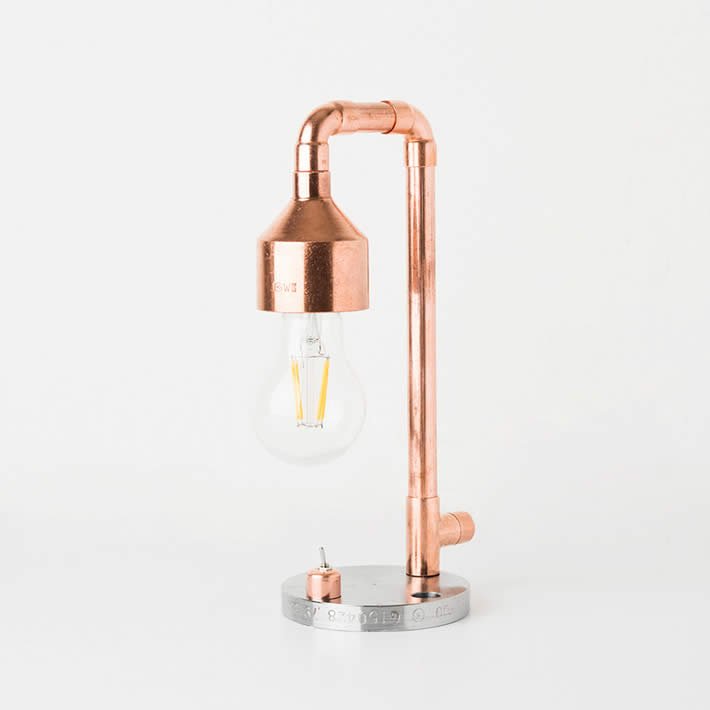 The Copper Pipe Lamp collection by this company shows exactly what I mean by functional and aesthetic. And let's not forget it's fun and at the same time stylish. Of course the most pure way to upcycle copper pipes is to use discarded ones. But in this case it shows what can be done with these pipes, old or new.
Design by PIPE STORY
Since you're here …
I have a small favor to ask. Thousands are visiting upcycleDZINE for upcycle design inspiration every month. Readers in more than 100 countries around the world are now able to support financially.
upcycleDZINE is a completely independent niche site, is very work-intensive, and offers tons of unique information for free.
To keep upcycleDZINE running, I'm asking you for your support.
Your contribution will allow me to:
– meet the hosting costs
– upgrade to keep track of traffic increases
– add new content, and keep improving the older content
– add new functionalities to this site
– improve how it works and how it looks
– and last but not least, my daily dose of coffee 🙂
Again, all contributions will be reinvested into the aforementioned associated costs of running this blog and will help ensure the ongoing quest for quality upcycle design.
Your kindness and generosity will be greatly appreciated and will give me the motivation to continue.
Every contribution, however big or small, is so valuable for the future of upcycleDZINE.
Support today from as little as $2 – it only takes a minute. Thank you.