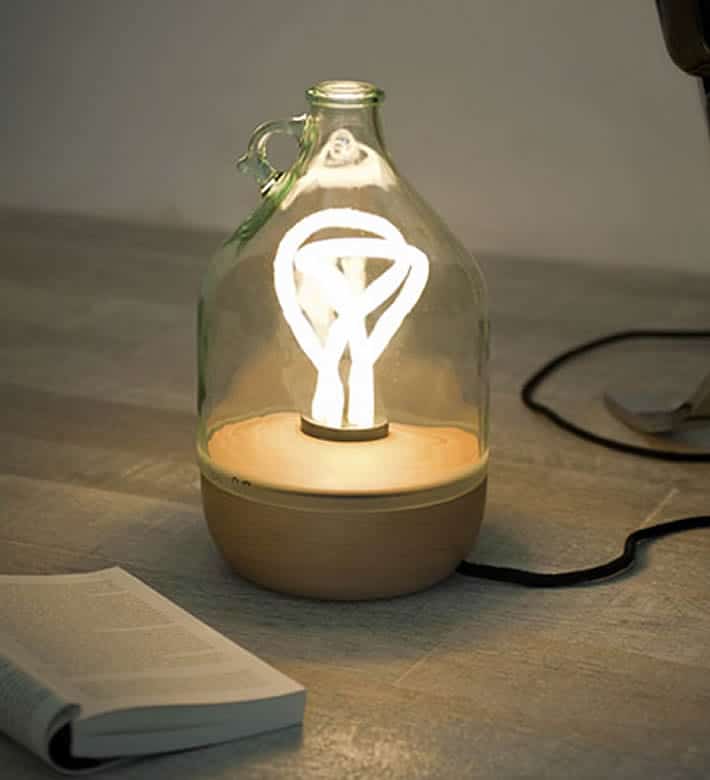 Look around you to see what items are using or are made out of glass. Then you'll notice how much glass is used. That's why there's also a lot of glass thrown away and recycled. But there's always a better solution than recycling and that's of course upcycling. And one of the most popular upcycle categories is lamps.
Glass vessel shows its charm
Today's featured creation is a very nice lamp with a warm, friendly design. Not just because of the lightbulb [low energy Plumen 001, lifetime 8 years] but because of the fantastic combination with the 5 liter glass vessel (known for storing wine or oil in Italy) that shows its charm.


Resulting in a classic / modern lamp called 'Dama', designed by Tom Allen, a Barcelona-based designer, for spanish eco-design company lucirmás. This company, based in Barcelona | Spain, was founded in 2006 by Italian designer Lucia Bruni. The lamp is made from upcycled, recyclable and sustainably certified materials.


Lucia Bruni:
"The vessels are Damajuanas, typical Italian vessels used to store wine or oil and, with the usage of this vessel, we pretend to remind the traditional and family Italian cooks who carefully prepare a traditional recipe."

Photos © Lucirmás

Cleaning is easy when removing the glass 'lampshade' with the original handle. The beech timber base is PEFC (Programme for the Endorsement of Forest Certification) certified. The lamp is entirely handmade in Barcelona with the highest attention to detail and craftsmanship. And it shows!