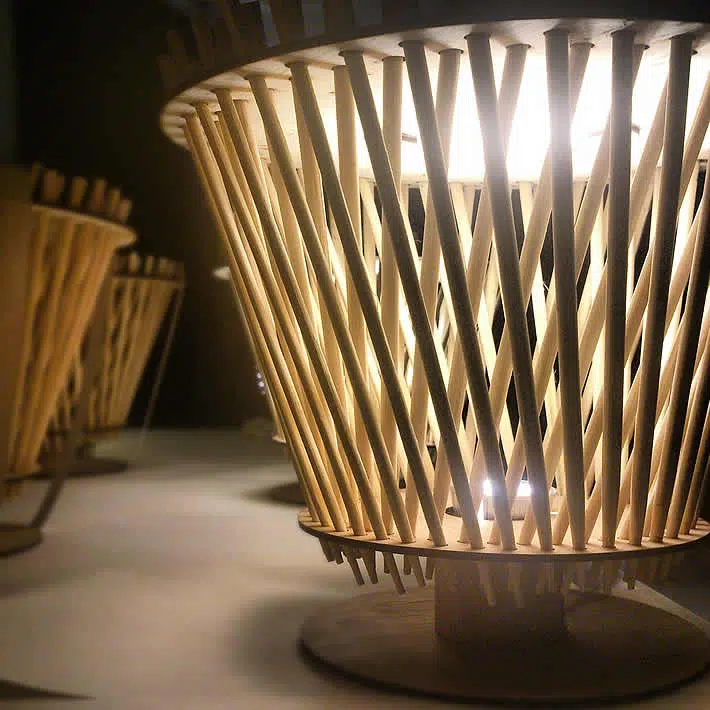 The human brain is incredibly fascinating. Especially when you think of a thing like creativity. We're able to produce lots of different creative thoughts. I'm fascinated by this since my graphic design study at the Royal Academy of Art in The Hague. Every new design assignment, my fellow design students and I started with the same guidelines. When we had to show our design it was always fantastic to see that almost everybody had a different creative solution for the same problem.
I remember laying all the designs on the floor. And then we stood around them watching at all that creativity and talking about it. Of course it was exciting to see if I had come up with a good design. But for me that moment where I would see all the different designs for the first time was at least as exciting, or even more.
I'm telling you this because when searching for upcycle design I sometimes stumble upon designs made out of the same object. And I find it striking to see that designers came up with totally different and great looking upcycle design pieces. Today's post is a nice example of what I mean. Some time ago upcycleDZINE featured the stunning Chopsticks Tripod Lamp by T.O.M.T.™. A floor lamp with discarded chopsticks. And now another completely different upcycle design with the same object, only this time a slightly different type of stick.
Light plays in framework of chopsticks lamp
This upcycle design project is called De.Co.Ré. It's a creation by Laura Camila Vargas and Juan Sebastian Rivera Hernández, both design students at Universidad de los Andes in Bogotá | Colombia. With this project they wanted to show an appreciation for the 'unwanted'. Through a design process the final shape of the lamp was determined.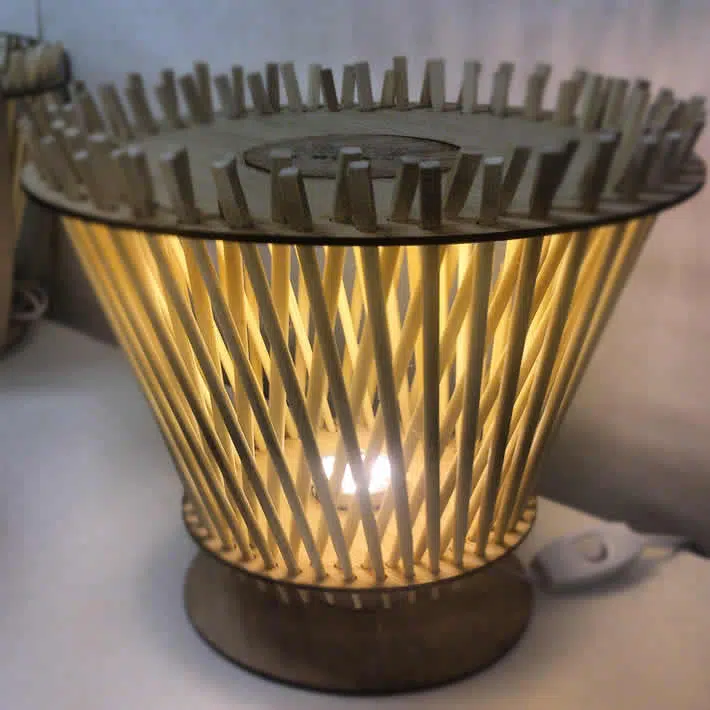 They initially came up with chopsticks hung from the top and thought it should be a hanging lamp. Later, the sticks were attached to a new ring at the base and the design turned into a table lamp. Finally, a frame of sticks was generated across the lamp. This was done to give a better aesthetic and interaction with the light.


Photos © Laura Camila Vargas and Juan Sebastian Rivera Hernández

In a way this design also reminds me bit of the lamp Welcome Mamy by Martin Lévêque. A desk lamp made out of knitting needles. What is so interesting and attractive about De.Co.Ré is the fact that they have been able to create that framework. The result is an upcycle design lamp that plays with the light in a delightful way.
Since you're here …
I have a small favor to ask. Thousands are visiting upcycleDZINE for upcycle design inspiration every month. Readers in more than 100 countries around the world are now able to support financially.
upcycleDZINE is a completely independent niche site, is very work-intensive, and offers tons of unique information for free.
To keep upcycleDZINE running, I'm asking you for your support.
Your contribution will allow me to:
– meet the hosting costs
– upgrade to keep track of traffic increases
– add new content, and keep improving the older content
– add new functionalities to this site
– improve how it works and how it looks
– and last but not least, my daily dose of coffee 🙂
Again, all contributions will be reinvested into the aforementioned associated costs of running this blog and will help ensure the ongoing quest for quality upcycle design.
Your kindness and generosity will be greatly appreciated and will give me the motivation to continue.
Every contribution, however big or small, is so valuable for the future of upcycleDZINE.
Support today from as little as $2 – it only takes a minute. Thank you.