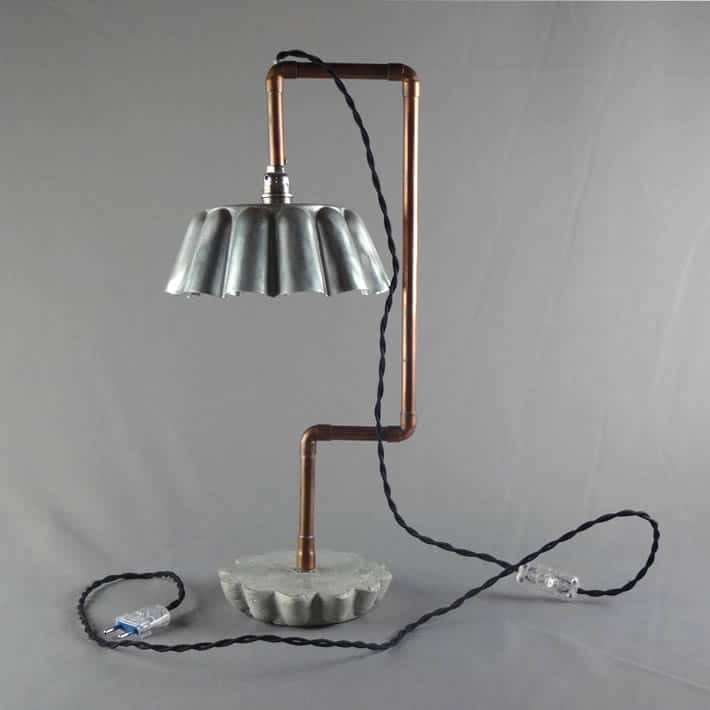 I'm not sure if you noticed but for some time there's a certain 'concrete wave' going on in design. It pops up all over the place. In magazines, shops, fairs and exhibitions. You can find products by companies, designers and by DIY creators.
There are also creatives who present a design using concrete as being upcycle design. Of course, that's not right because if there's no old item reused, it's not upcycling. But, there are more and more designs out there that use concrete in combination with a discarded item. And today upcycleDZINE wants you to show you such a design. It's the first time on this blog that a design is featured that's made with the use of concrete.
Baking mould used for cast concrete
The design is made out of a combination of concrete, copper pipes and an aluminium baking mould. An object usually found in a kitchen and like other kitchenware and appliances very suitable for upcycling. Here are some nice examples of upcycled kitchenware: TupperLight, Insight Light and Chef de Cuisine.


And now another upcycle design that uses a mould. The design is called DENIS PAPIN and is a creation by Le Siècle des Lumières [The Age of Enlightenment]. A lighting design studio founded by Anne Le Meur, based in Montauban, Brittany | France. The studio offers unique pieces made from recycled and upcycled materials.


Anne Le Meur:
"Our approach is based on recycling, upcycling of objects and recovered materials. They are valued in the creation of unique lamps and manufactured by hand."
The table lamp is named after Denis Papin [1647-1713], a French physicist, mathematician and inventor. According to WikipediA he was best known for his pioneering invention of the steam digester, the forerunner of the pressure cooker and of the steam engine.


Photos © Le Siècle des Lumières

The thing I really like is that the mould is not only used as a lampshade but also to create the cast concrete base for this design.
Looking forward to finding more upcycle design using concrete in combination with other old objects. There's something pure and honest about these upcycle designs to me.
Since you're here …
I have a small favor to ask. Thousands are visiting upcycleDZINE for upcycle design inspiration every month. Readers in more than 100 countries around the world are now able to support financially.
upcycleDZINE is a completely independent niche site, is very work-intensive, and offers tons of unique information for free.
To keep upcycleDZINE running, I'm asking you for your support.
Your contribution will allow me to:
– meet the hosting costs
– upgrade to keep track of traffic increases
– add new content, and keep improving the older content
– add new functionalities to this site
– improve how it works and how it looks
– and last but not least, my daily dose of coffee 🙂
Again, all contributions will be reinvested into the aforementioned associated costs of running this blog and will help ensure the ongoing quest for quality upcycle design.
Your kindness and generosity will be greatly appreciated and will give me the motivation to continue.
Every contribution, however big or small, is so valuable for the future of upcycleDZINE.
Support today from as little as $2 – it only takes a minute. Thank you.