DIYs are immensely popular. And DIY accompanied with a tutorial is even more popular. So when I was searching the web for interesting upcycle projects I found something that I really like. It's a project on how to create your own rug.
I've told you before that I like rugs but still haven't found one that I think would look nice in our living room. And if I would buy or make a rug it should be upcycled. There are already a few amazing rugs here on this blog like the Vlisco Recycled, Light Rug and UBER. All examples of beautifully made upcycle design rugs.
Scrap fabric with a whole new value
And today I'm happy to show you a stunning Coil & Crochet Scrap Fabric Rug, one that you can make yourself. The project is by My Poppet, a very creative Australian blog founded by Cintia. It's a place where you can find a great collection of tutorials, which incorporate a variety of disciplines, like crochet, needle felting, paper craft, quilting, digital media, photography and sewing.


The most important requirements for making this rug are a single crochet stitch, enough old fabric and patience. The basics are that you crochet around the twisted fabric strip that is formed like a rope. Cintia explains it all in her tutorial and says that the crochet stitch is fairly basic. I guess by just trying you'll get the hang of it. It's not something that you'll do in a few hours or few days.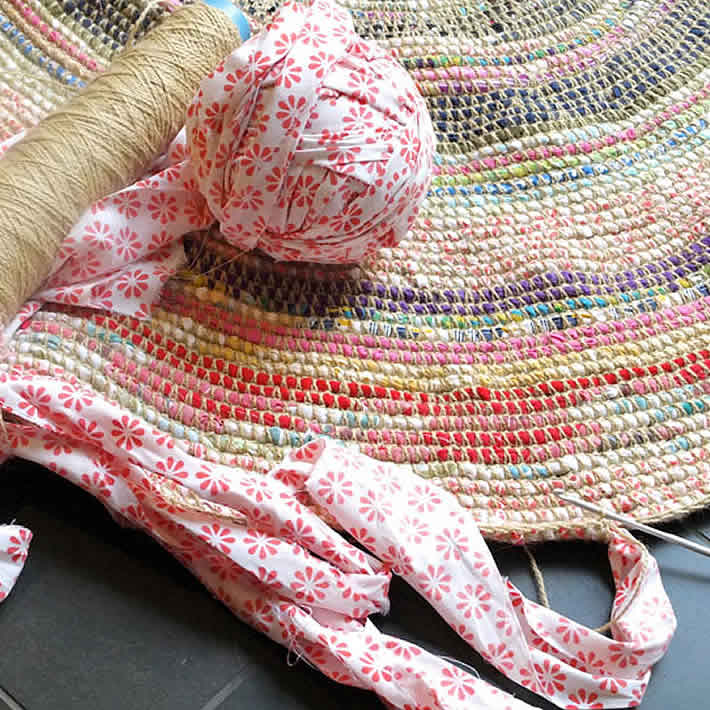 It's quite a project to create your rug. But I think it's extremely satisfying once you look at how it's going and finally watch the finished product. Another nice aspect about this project is that you can make your creation as small or big as you want. One thing though, you should use a anti slip rug underlay. If you ever used a rug without one you know how slippery and dangerous it can be.


Because it's an upcycle project, you mainly use old materials. You can use scrap fabric that is too worn out or stained for sewing projects. For instance old sheets, fabric remnants and old clothing. The twine that is used to make this rug is also recycled.

Photos © My Poppet

If you're having enough old fabric laying around, you could try to give it a whole new value. It's your chance to make your own eco friendly fully upcycled rug. And like most upcycle projects, very inexpensive and a great result.