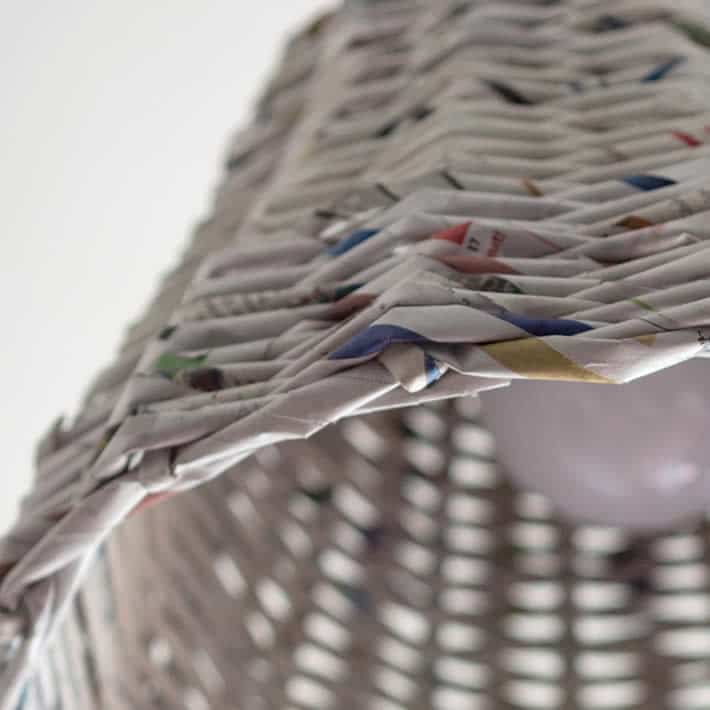 What is one of the most used everyday materials? I think it's got to be paper. It's also one of the most and one of the oldest recycled materials in the world. But that's recycling and on this blog, it's about upcycling.
And yes, you can also upcycle paper into a great design. Two designs that show the strength and beauty of old magazines are Magazine Bag and Sofa Away. You wouldn't think that they are made out of paper.
Create your own basket of light
If you're like me, you must be inspired to upcycle paper yourself. That's why I'm a great fan of DIYs and was very happy when I found another amazing tutorial on how to upcycle newspapers into a lampshade.


The upcycle design Basket Lampshade is entirely made out of paper, both newspaper and cardboard. The design and clearly written DIY tutorial are by Alt trifft Neu [translated: Old meets New]. This blog is founded by Stefanie, living in Berlin | Germany. Alt trifft Neu is a very creative blog with, according to Stefanie, 'information, ideas and suggestions about the topic of Upcycling, DIY and what makes the world even more colorful and beautiful, but also critically challenged …'.


She created this Basket Lamp using a simple braiding technique, so it is possible for everyone to create this lamp by themselves using her tutorial. One could also simply braid a basket and use it as a bin for used paper. You need the following simple materials and tools for this upcycling lampshade: several used newspapers, an old cardboard box, cutter or scissors, glue, wooden sticks, lamp holder. Important: You should use a LED bulb, which is not hot because your working with paper.


Stefanie:
"Upcycling is for me an ecological sustainability idea with the aim of producing no garbage and giving objects and materials by creativity a second life a prolonged period of use. Each product is intended to convey a message to our Disposable Society."

Photos © Alt trifft Neu

The tutorial [view site in Chrome browser for translation] is inspiring and at the same time instructive. Really hope you're having a go at this yourself because it's so great to enjoy things that you have made yourself. A basket of light doesn't cost much, just effort!
Since you're here …
I have a small favor to ask. Thousands are visiting upcycleDZINE for upcycle design inspiration every month. Readers in more than 100 countries around the world are now able to support financially.
upcycleDZINE is a completely independent niche site, is very work-intensive, and offers tons of unique information for free.
To keep upcycleDZINE running, I'm asking you for your support.
Your contribution will allow me to:
– meet the hosting costs
– upgrade to keep track of traffic increases
– add new content, and keep improving the older content
– add new functionalities to this site
– improve how it works and how it looks
– and last but not least, my daily dose of coffee 🙂
Again, all contributions will be reinvested into the aforementioned associated costs of running this blog and will help ensure the ongoing quest for quality upcycle design.
Your kindness and generosity will be greatly appreciated and will give me the motivation to continue.
Every contribution, however big or small, is so valuable for the future of upcycleDZINE.
Support today from as little as $2 – it only takes a minute. Thank you.