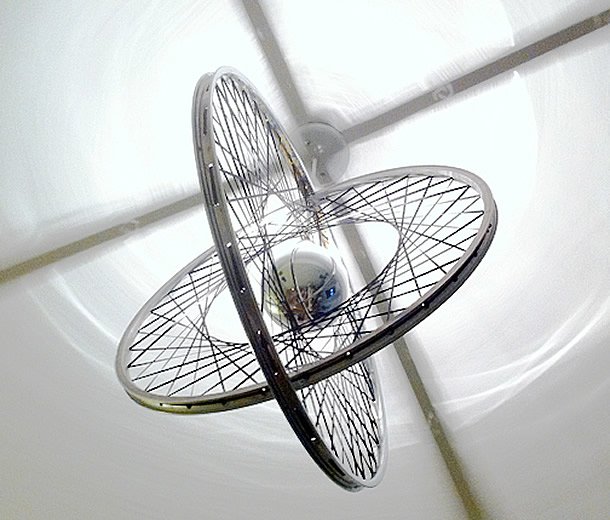 For those who also followed upcycleDZINE, might know Relevé Design. I've featured the 96 LOTUS pendant light, designed by Bao-Khang Luu, founder of Relevé Design. A pendant that's part of a unique series of pendants made from six-pack rings. And last week I came across another great stylish design, the 'Boole' pendant light. This time Bao used bicycle rims and as you may know by now, another great upcycle object. The origin of this pendant is a whole other story.
Bicycle rim light inspired by a classic
It started with Andrew Wagner, the director of Krrb.com, and Jen Turner, an architect and designer, who were inspired by the The Aldrich Contemporary Art Museum's show 'Found'. They designed a Noguchi style pendant lamp from bicycle rims and used two abandoned bicycle wheels. One slightly larger than the other, to create a hanging lamp reminiscent of Isamu Noguchi's classic Akari pendant lights. Here you can see how they did it.


Photo © Relevé Design

Bao-Khang Luu was invited to a 'Trash to Treasure' workshop by Andrew Wagner and Jen Turner. He noticed that the system to make the pendant was so versatile that he couldn't help himself making a modified version. He named his upcycle design 'Boole' pendant light after the creator of string geometry, Mary Boole.
I can only say that these bicycle rim designs are fantastic additions to the list of upcycle designs made by using rims. And I can't wait to run to one of the local bicycle stores to ask them for some discarded rims.
Since you're here …
I have a small favor to ask. Thousands are visiting upcycleDZINE for upcycle design inspiration every month. Readers in more than 100 countries around the world are now able to support financially.
upcycleDZINE is a completely independent niche site, is very work-intensive, and offers tons of unique information for free.
To keep upcycleDZINE running, I'm asking you for your support.
Your contribution will allow me to:
– meet the hosting costs
– upgrade to keep track of traffic increases
– add new content, and keep improving the older content
– add new functionalities to this site
– improve how it works and how it looks
– and last but not least, my daily dose of coffee 🙂
Again, all contributions will be reinvested into the aforementioned associated costs of running this blog and will help ensure the ongoing quest for quality upcycle design.
Your kindness and generosity will be greatly appreciated and will give me the motivation to continue.
Every contribution, however big or small, is so valuable for the future of upcycleDZINE.
Support today from as little as $2 – it only takes a minute. Thank you.