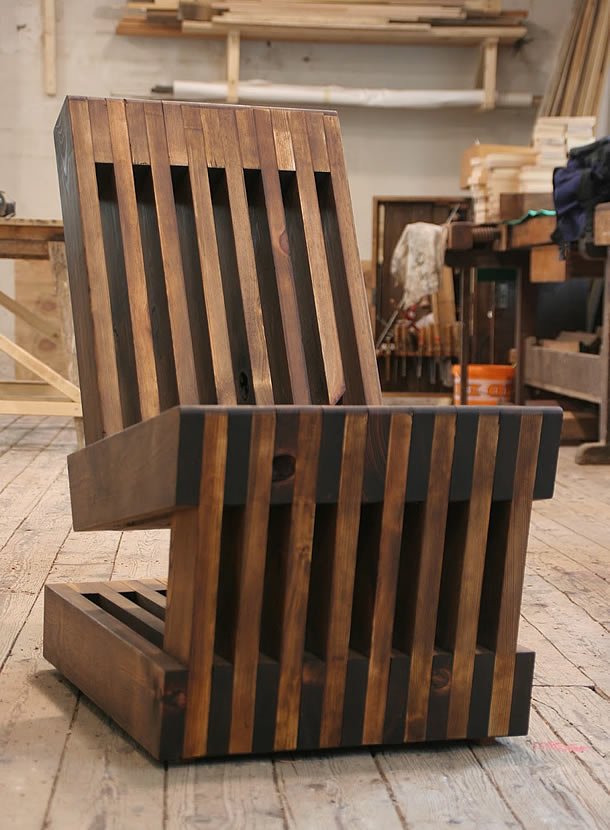 On this rainy and dark friday I came across an upcycle design that brightened up my day. Why? Just because it shows again what stunning objects people make by using discarded materials and objects.
I'm saying it over and over again so people will finally realize that upcycle design has grown into a mature design and art form. The world should know by now that upcycle design is here to stay and isn't only a hype or something to sneer about.
A chair that shows craftsmanship and quality
Of course, just like 'normal' design, there're different levels of design. Here on upcycleDZINE I'm always on the look out for quality pieces. And to show you what I mean, look at this featured chair by Sandman from Germany.

Photos © Sandman

The design is named Easy Rider and is an impressive cantilever chair made from some old discarded planks. Always loved this type of chair. The first ones I saw, still one of my favorites, is the Cantilever Chair by Ludwig Mies van der Rohe and of course  the Zig-Zag chair by Gerrit Rietveld . The Easy Rider is a stunning piece and it shows tremendous craftsmanship. The shape, the way it is built and the beautiful dark finish shows a great interweaving of light and dark pieces. A fantastic example of what upcycle design can be like.
Well, let the photos tell the story!
Since you're here …
I have a small favor to ask. Thousands are visiting upcycleDZINE for upcycle design inspiration every month. Readers in more than 100 countries around the world are now able to support financially.
upcycleDZINE is a completely independent niche site, is very work-intensive, and offers tons of unique information for free.
To keep upcycleDZINE running, I'm asking you for your support.
Your contribution will allow me to:
– meet the hosting costs
– upgrade to keep track of traffic increases
– add new content, and keep improving the older content
– add new functionalities to this site
– improve how it works and how it looks
– and last but not least, my daily dose of coffee 🙂
Again, all contributions will be reinvested into the aforementioned associated costs of running this blog and will help ensure the ongoing quest for quality upcycle design.
Your kindness and generosity will be greatly appreciated and will give me the motivation to continue.
Every contribution, however big or small, is so valuable for the future of upcycleDZINE.
Support today from as little as $2 – it only takes a minute. Thank you.