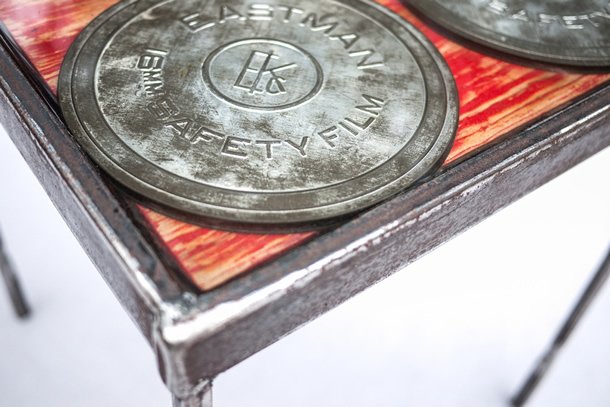 Some people do have many qualities. For instance actors who are also great painters or musicians who can also act. And here's Justin Neuhardt who is an innovative, eclectic percussionist for 20 years. Justin toured and recorded with his band, Hackensaw Boys (Nettwerk Records) for 10 years. And besides that he's a visual artist and a furniture designer who, amongst other furniture, designed and made this 'Film Canister End Table' with acrylic top.
Repurposed material: film canister
Justin's handcrafted furniture is designed and constructed for clients who desire true originality and absolute quality made with repurposed materials. Working primarily with reclaimed wood and steel, Justin's creations retain the weathered appearance that belies the previous lives of his materials. While scouring backyards, junkyards, alleys and underpasses, Justin's trained eye allows him to cull the most interesting and durable materials from the urban rubble.
In Justin's capable hands, cast-off items such as wood pallets, fence planks, metal bed frames and rusted steel are transformed into works of enduring beauty and integrity.


Photos © Justin Neuhardt

Just look at this Film Canister End Table, it shows a great steel table frame with a stunning top that uses the legendary Eastman Kodak Company film canister. The top is finished with an acrylic and clear coat.
This table's a true tribute to vintage industrial design, done in a whole new way.
Since you're here …
I have a small favor to ask. Thousands are visiting upcycleDZINE for upcycle design inspiration every month. Readers in more than 100 countries around the world are now able to support financially.
upcycleDZINE is a completely independent niche site, is very work-intensive, and offers tons of unique information for free.
To keep upcycleDZINE running, I'm asking you for your support.
Your contribution will allow me to:
– meet the hosting costs
– upgrade to keep track of traffic increases
– add new content, and keep improving the older content
– add new functionalities to this site
– improve how it works and how it looks
– and last but not least, my daily dose of coffee 🙂
Again, all contributions will be reinvested into the aforementioned associated costs of running this blog and will help ensure the ongoing quest for quality upcycle design.
Your kindness and generosity will be greatly appreciated and will give me the motivation to continue.
Every contribution, however big or small, is so valuable for the future of upcycleDZINE.
Support today from as little as $2 – it only takes a minute. Thank you.