Once in a while I come across design that doesn't only look good, but also is very clever. The design can stand out by its material, function or form. In this post upcycle design is all about function and form.
Have you ever bought flowers or a flower bouquet? I hope so because they always bring a special touch to an interior. But after you bought a bouquet and have to ride your bicycle or walk, you always have to hold them in one hand. Ok, not a big problem. But what about a solution where you could keep your hands free and cary the flowers in a safe and stylish way?
Carry flowers in a fashionable and functional way
The solution was created during a student project at Elisava, Barcelona School of Design Engineering. The project is called RE_STORE and is an initiative to recover used materials and transform them into new products through design. Three students, Laura Aquilar, Lorerely Videla and Laura Planas, came up with a fashionable, functional and ecofriendly idea to carry flowers.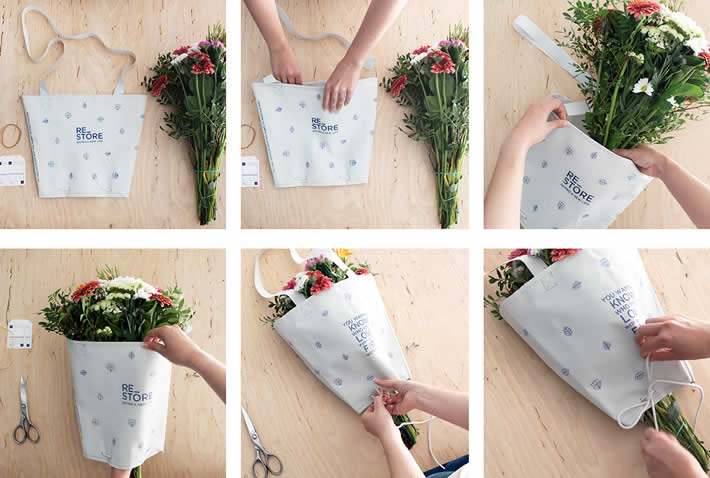 RE_STORE:
"We used recycled sail boat fabric to design a bag to carry bouquet flowers and also can have a second use to carry fruits or vegetables."

I don't know about you but I really see myself using this multifunctional bag one day. I like the fact that they used a rugged material like sail cloth. This material has already been featured on upcycleDZINE a few times. It was used to create a cool bag by Mamukko and a beanbag by Lazy Jack.


Photos © RE_STORE

As a graphic designer i'm always fond of print on a material. That's why I also like the graphic print together with the typo and quotes. The print in combination with the chosen upcycled material, form and function make this product a genuine piece of upcycle design.