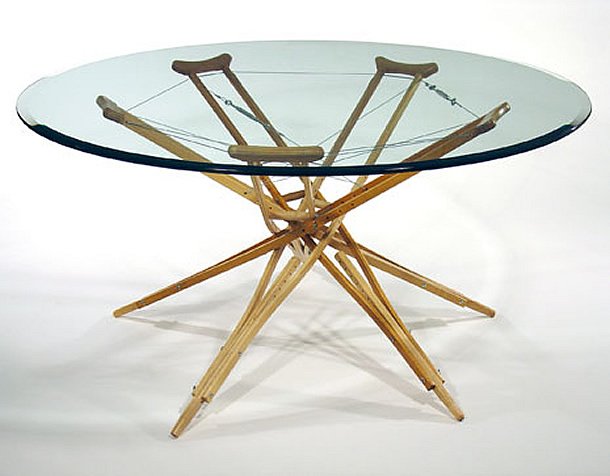 Last week I stumbled upon some stunning upcycle design. Not only because of the fantastic shape and structure, but also the upcycled object that was used. I didn't notice it right away, because who would have thought that you could make furniture pieces out of discarded crutches.
Refitting the planet with old crutches
The 'Crutch Table' and the 'Crutch Bar' are designed by T.O.M.T., founded in 1994 by Rodney Allen Trice, based in Brooklyn | New York. Recovering discarded objects and giving them a second life by reassigning the purpose is what T.O.M.T. is all about. "The key to saving these forgotten objects is just keeping our eyes open and being open and ready to spot what we like to call 'objects of desire' – old appliances, tires, whatever!"


Photos © T.O.M.T.

On the website of T.O.M.T. it says that his awareness of our need to conserve the Earth's resources has grown significantly since his endeavor began more then 12 years ago. As has his concern for a future where no one will be insulated from the need to make the most of the objects around us.
"I believe we all must do our part, think beyond just separating plastic, paper, glass," says Trice. "We must teach ourselves and learn as habit to see more than just a 'rain shield' in an umbrella, a 'dust collector' in a vacuum and a 'shoe for our car' in an old tire. When we do that, the Earth will become a safer place for the children of the 21st century and, from my experience, A LOT MORE FUN, TOO!"
T.O.M.T.: refitting the planet for today, tomorrow and all the days to come!
I recommend visiting his site to see his collection and check out his new stuff.
Since you're here …
I have a small favor to ask. Thousands are visiting upcycleDZINE for upcycle design inspiration every month. Readers in more than 100 countries around the world are now able to support financially.
upcycleDZINE is a completely independent niche site, is very work-intensive, and offers tons of unique information for free.
To keep upcycleDZINE running, I'm asking you for your support.
Your contribution will allow me to:
– meet the hosting costs
– upgrade to keep track of traffic increases
– add new content, and keep improving the older content
– add new functionalities to this site
– improve how it works and how it looks
– and last but not least, my daily dose of coffee 🙂
Again, all contributions will be reinvested into the aforementioned associated costs of running this blog and will help ensure the ongoing quest for quality upcycle design.
Your kindness and generosity will be greatly appreciated and will give me the motivation to continue.
Every contribution, however big or small, is so valuable for the future of upcycleDZINE.
Support today from as little as $2 – it only takes a minute. Thank you.