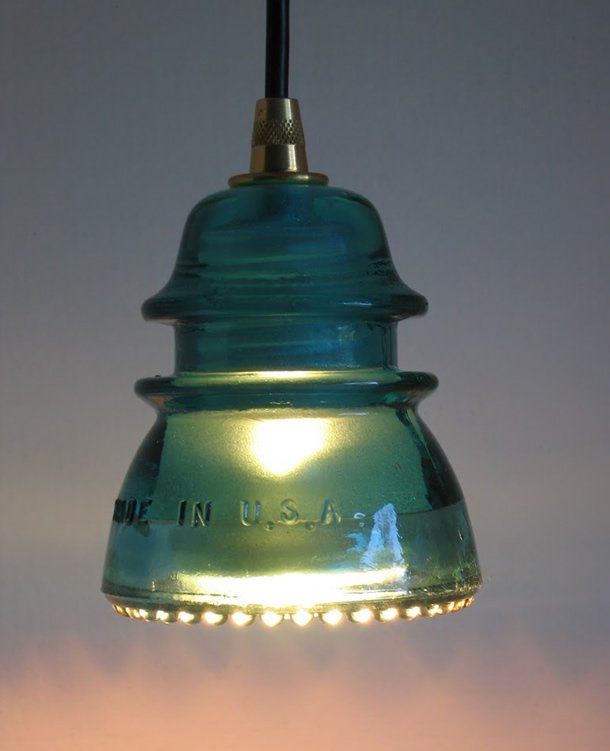 Today's upcycle design I've wanted to show for some time. 'Glass Insulator lights' by RailroadWare based in Chico, California. Founder and owner is Tim leefeldt who is an architect and lighting designer.
RailroadWare is all about reuse and re-purpose common glass insulators, traffic light lenses, railroad parts and other common industrial objects and transforming these artifacts and relics into useful modern light fixtures and other useful products.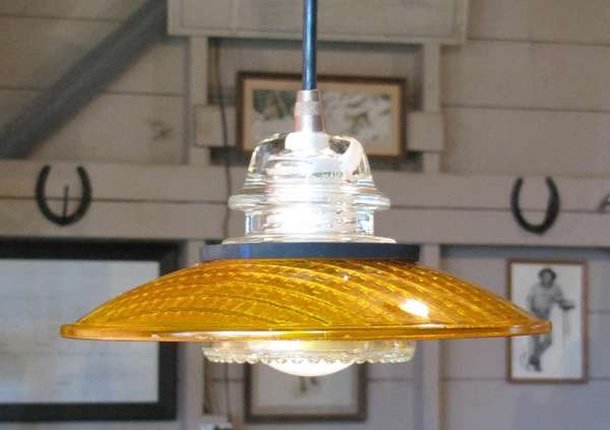 Glass Insulator is a colorful jewel
"All of these industrial artifacts I collect and work with having a common connection. They all come from a railroad crossing or an abandoned rail line out in the middle of nowhere. Physically I bring them all back together and re introduce them as cool useful artsy home decorative objects. The recycled trafficlight lenses and various railroad hardware pieces have come along for the ride in my quest for insulators."
The beautiful thing about the insulator lights is the simplicity of the object. These glass insulators have an attractive form factor and the transparency of the glass is just amazing. Tim: "I moved to Chico in 2004 and bought a Hemingray glass insulator in an antique store in Oroville. I was captured by the simple form the pretty color and history surrounding of this little collectable object. Instantly I had a connection that this could make a very cool pendant light from this little colorful jewel."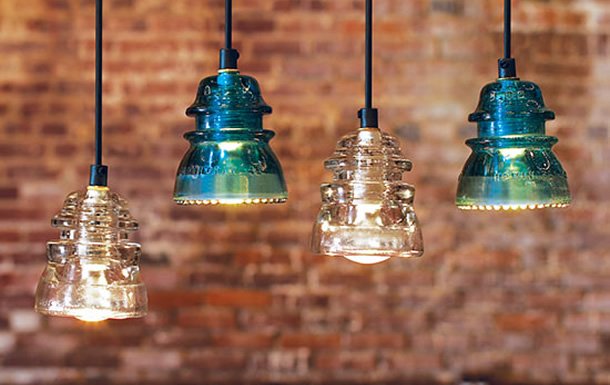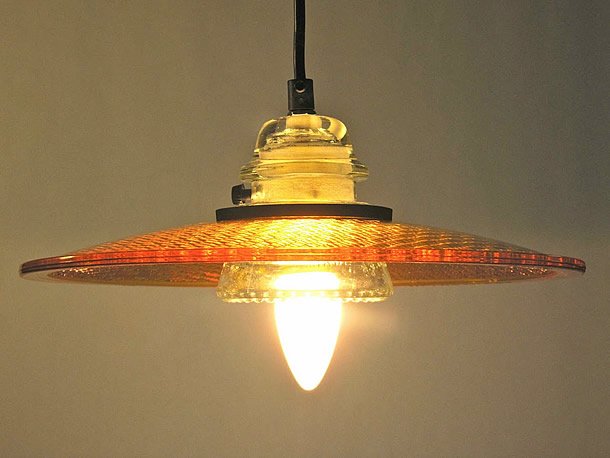 Photos © RailroadWare

The Hemingray Glass Company operated between 1848-1972 and was the largest manufacturer of glass insulators in the world. Around 1960 people began collecting them and today there are over 3,000 insulator collectors. There are Insulator clubs, shows and even a National Insulator Association. Well, I think you can't blame people for being so enthusiastic about these insulators. Just look at them.
Since you're here …
I have a small favor to ask. Thousands are visiting upcycleDZINE for upcycle design inspiration every month. Readers in more than 100 countries around the world are now able to support financially.
upcycleDZINE is a completely independent niche site, is very work-intensive, and offers tons of unique information for free.
To keep upcycleDZINE running, I'm asking you for your support.
Your contribution will allow me to:
– meet the hosting costs
– upgrade to keep track of traffic increases
– add new content, and keep improving the older content
– add new functionalities to this site
– improve how it works and how it looks
– and last but not least, my daily dose of coffee 🙂
Again, all contributions will be reinvested into the aforementioned associated costs of running this blog and will help ensure the ongoing quest for quality upcycle design.
Your kindness and generosity will be greatly appreciated and will give me the motivation to continue.
Every contribution, however big or small, is so valuable for the future of upcycleDZINE.
Support today from as little as $2 – it only takes a minute. Thank you.