One of the great things about upcycle design is that you learn to look at products in a different way. After having written about so many inspiring upcycled objects, an object isn't just that object anymore. No, it's so much fun now trying to think of a new function for that object. And every time that I see something new it amazes me that a designer came up with such an idea. And sometimes an idea is so simple and original.
Just look at a chair. Such a very common and familiar object. Normally when you see an old wooden chair you wouldn't think that it could be used for something completely different. On upcycleDZINE we have featured a few original upcycle designs that show what is possible. Just have a look at LOOM and Abitudini.
Multifunctional shelf and hanger
If you wonder what else is possible with an old wooden chair, well here's another amazing idea. Artist and designer Tess Hill, Barcelona | Spain, took an everyday item and upcycled it into a very practical piece with new functionalities. The design is called 'Half = One' and is created by using an old chair without altering its shape. She cut the chair in half, turned it upside down and attached it to the wall.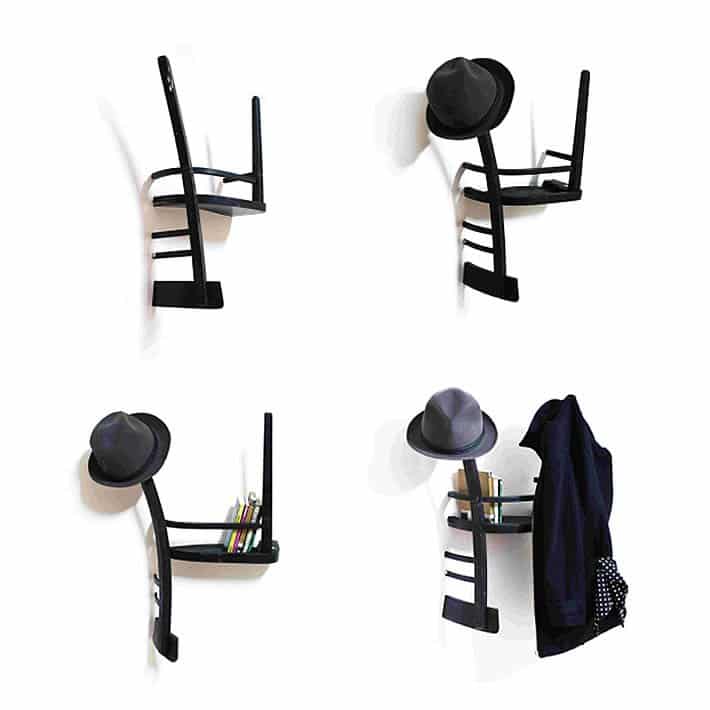 Not only does this design upgrade half a product into one new one. It's also transformed from having one function into having multiple functions. Half = One is a handy shelf for books, magazines, wallet, keys or towels. And at the same time it's also a clothes hanger. You wouldn't think, seeing this very creative idea, that it ones was something to sit on.

Photos © Tess Hill

If you like this creation you might also like WAIRS by Nikos Tsoumanis. Another design with the same concept but executed in a completely different way. Where Tess used only half a chair, the WAIRS design is more complicated. Both are useful pieces of upcycle design and very intriguing.
Not only do I think Half = One is great, but the name as well. By dividing one chair into two pieces you also have two new chair shelf hangers. It also could have the name 'One = Two'.
After seeing and reading this post I hope you will give discarded objects a second look.