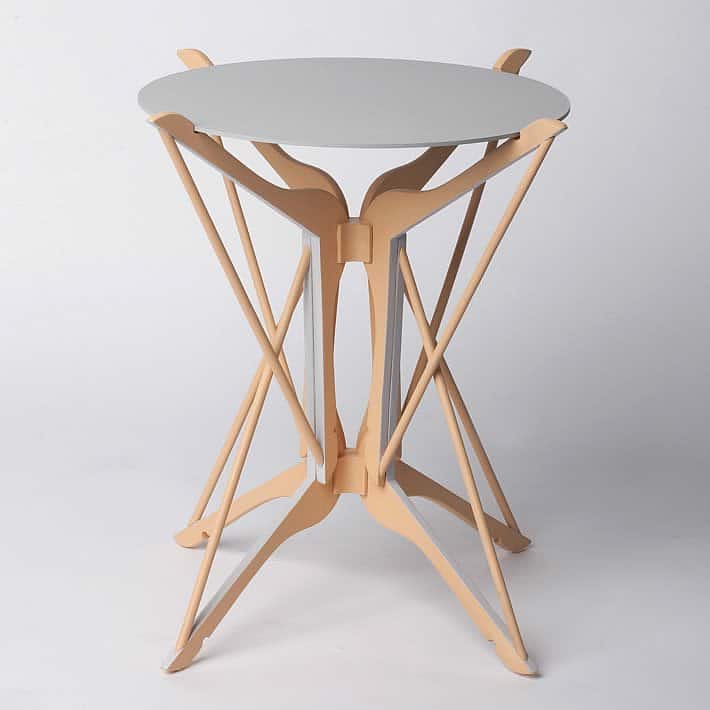 To kick off this new week I'm showing you upcycle design that's both puzzling and simple. Puzzling because of the lines created and simple for the object used. Sometimes, when I'm searching for upcycle design, I come across design that's made out of such simple everyday objects. Objects that are in your hands at least once or twice a day.
Time and time again I'm so surprised to see what designers have done by upcycling them. They create beautiful upcycle design. Not just upcycle design, but design in general.
One of those simple everyday objects that we take for granted is a hanger. Just look at the Floor Desk by Felicia Chiao and HANGELIER 2.1 by Organelle. Two amazing examples that both use old wooden clothes hangers.
Clothes hangers form a geometric puzzle
And the designs you're seeing today are showing more wonderful possibilities. The upcycle design collection is called 'Hangers Table' #1, #2, #3 and is created by Federica Sala. Federica is an Italian architect and graphic designer based in Barcelona | Spain.

Her activities span among visual identity, editorial design, illustration and art direction, developing concepts and designs in cultural as well as commercial fields. She's totally obsessed by tridimensional geometric shapes, geographic maps and animals. In her work she mixes all these ingredients seeking 'magic in the ordinary'.

As a graphic designer myself I'm also a fan of geometric shapes, and maybe that's why I really like this table collection. But of course the best thing is those old wooden clothes hangers turned into something completely different. In this case a beautiful table collection.
Since you're here …
I have a small favor to ask. Thousands are visiting upcycleDZINE for upcycle design inspiration every month. Readers in more than 100 countries around the world are now able to support financially.
upcycleDZINE is a completely independent niche site, is very work-intensive, and offers tons of unique information for free.
To keep upcycleDZINE running, I'm asking you for your support.
Your contribution will allow me to:
– meet the hosting costs
– upgrade to keep track of traffic increases
– add new content, and keep improving the older content
– add new functionalities to this site
– improve how it works and how it looks
– and last but not least, my daily dose of coffee 🙂
Again, all contributions will be reinvested into the aforementioned associated costs of running this blog and will help ensure the ongoing quest for quality upcycle design.
Your kindness and generosity will be greatly appreciated and will give me the motivation to continue.
Every contribution, however big or small, is so valuable for the future of upcycleDZINE.
Support today from as little as $2 – it only takes a minute. Thank you.