Some time ago I stumbled upon an unusual material used for upcycling. I'm talking about synthetic grass used on sports fields. Of course I know it exists and I've seen it in all it's different appearances. But when I saw it being used for upcycle design, it made me smile. And like I've said many times, upcycle design should have a fun factor and make you happy.
When I found another design brand also using synthetic grass, I thought it would be a good thing to combine these different products and brands into one post.
Synthetic grass can be fun and friendly
It could be a coincidence, but both brands are French and both are all about sustainable products. And their upcycle design pieces couldn't be more different. Rugby, football, golf, soccer and hockey require different compounds and the synthetic grass having various heights. As a result the recovered patches have a different look and feel and have different characteristics. Let's start with furniture.

Stools and bench by Marron Rouge
Marron Rouge was founded in 2009 by Jean-Marc Attia. Marron Rouge encourages good working conditions, no child labor, production and ecological practices based opportunities, recycled products, collaboration with various humanitarian organizations, the development of local expertise and sustainable social projects.
Jean-Marc got hold of synthetic grass left overs and thought of creating an attractive and fun top cover for his stools. He created a collection called 'Green Grass stool' made out of eucalyptus wood feet and upcycled synthetic grass. The top is slightly padded with foam and edge of the seat is in denim canvas. Manufacturing is done by a NGO which fights against poverty.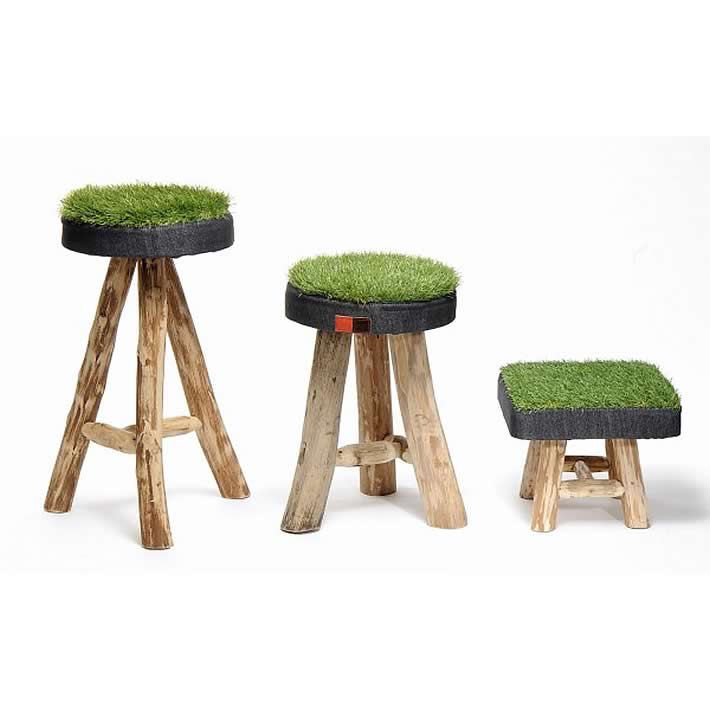 After his experiences with this new material he was looking for more ideas and opened a space for creativity to other designers. During an exhibition in Lyon he bumped into French designer Benjamin Rousse and asked him to think about furniture using this material and gave him carte blanche. This resulted in an amazing looking and feeling bench called 'Green curves' [Courbes Vertes]. The wooden structure is made by an NGO in India and the turf pieces are assembled in France by Marron Rouge.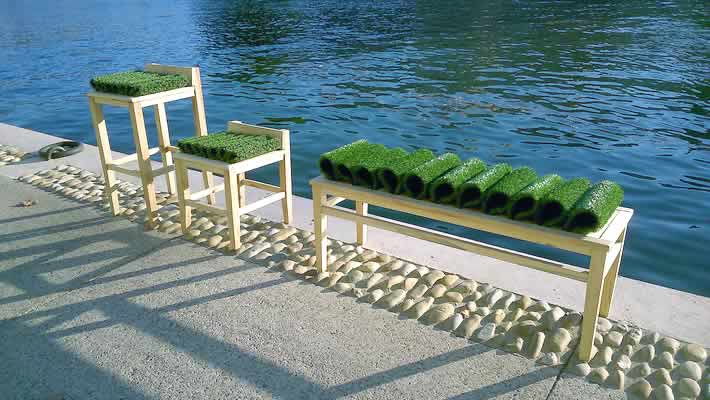 Benjamin Rousse:
"The idea was to highlight the matter that is now too often considered a poor material and divert it to make it 'something' aesthetic and comfortable. The irregularity of this material called synthetic grass combined with a more contemporary form of this object is something unique, aesthetic and comfortable. The result is a contrast between a geometric wood structure and seat curves inviting comfort."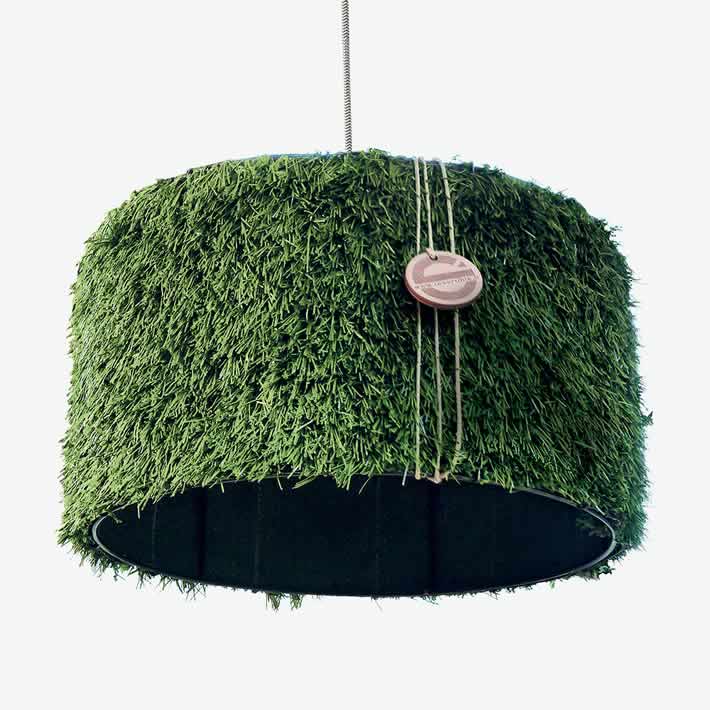 Lighting, pouf and placemat by Reversible
Reversible is also a French creative brand and is all about Recover, Recreate and Recycle [read Upcycle]. They use all sorts of waste material to design and create a whole range of upcycle design products. Reversible was founded in 2008 and is based in Lyon. The manufacturing is insured by ESAT (establishment of help at work) or by workshops promoting reintegration. They are all located in Lyon or within 50 km to minimize their carbon footprint. All its manufacturing waste is recycled. Depending on the materials, they are sent to different recycle companies who, for example, manufacture PVC tarp [tarpaulin], vinyl flooring. Other possibilities are tamping the poufs with non-recyclable materials or simply crushing it.

Reversible:
"We invite our customers to return their bag 'end-of-life' (through an envelope supplied at the time of purchase) in order to integrate it into our recycling loop. And the circle is complete!"
The upcycle design collection made out of synthetic grass started with a request of a large company specializing in the development of green spaces in the Lyon region. After researching the material the designers created several products using the specific characteristics provided by synthetic grass.

Photos © Marron Rouge, Benjamin Rousse and Reversible

They designed a lampshade called 'Dékoplafond'. Looking at the design, a strip of grass hovering in midair, is in a way surreal. If you're searching for a friendly looking piece of furniture, giving a bit of a country look to your interior, then this might be for you. A pouf called 'Dékopouf', also made out of synthetic grass, is shaped as a big dice. Another fun and functional piece of furniture with an unique look and feel. Finally the team from Reversible came up with an exceptionally fun design that definitely should make you smile in all its simplicity. It's called 'Dékotable', a placemat made out of synthetic grass with a few cutouts for a plate and cup or bowl. This placemat is a design that provides a nice green touch on your table.
I never imagined synthetic grass being so friendly and surreal.