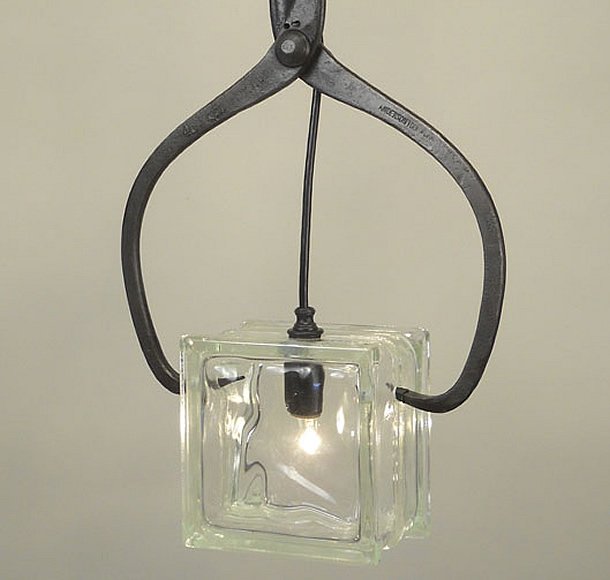 For those of you who haven't yet looked into the world of upcycle design, you should. On my blog upcycleDZINE I'm trying to show how wonderful design can be that uses discarded items/materials. It can be new everyday items that people use to create different items from, or it can be vintage items. These are two groups that give totally different results. But what they have in common is the fact that old items get a new purpose.
And by trying to make upcycle design or repurpose design, one has to think out-of-the-box. Looking at discarded or thrown away objects in a different way and finding solutions for use is a great challenge. Transforming this waste so it can have a second life and a new purpose is starting to get more and more popular.
Ice tong transforms into pendant
Just look at this vintage ice tong in combination with a beautiful hand blown glass block made by AO! The result is the stunning 'Ice Block Pendant' by Conant Metal & Light. "Working with repurposed materials is always fun and rewarding. Not only are we preventing these materials from being thrown away, we get to see their full potential once they have been transformed into something new and different."
To see the full beauty and big dimentions of this pendant you should look at the photo of the Ice Block Pendant hanging in place. So unusual and mesmerizing.

Photos © Conant Metal & Light

Conant Metal & Light has been designing, manufacturing, and selling lighting in Vermont since 1979. Conant Metal & Light is a company that moved away from the commodities market to focus on unique and artful design, products that are functional works of art. Today they continue to provide design, fabrication, restoration, and contract manufacturing services to a wide array of markets. "While we still produce a broad range of custom products, repurposed lighting, repurposed furniture, and everything industrial has become our primary focus."