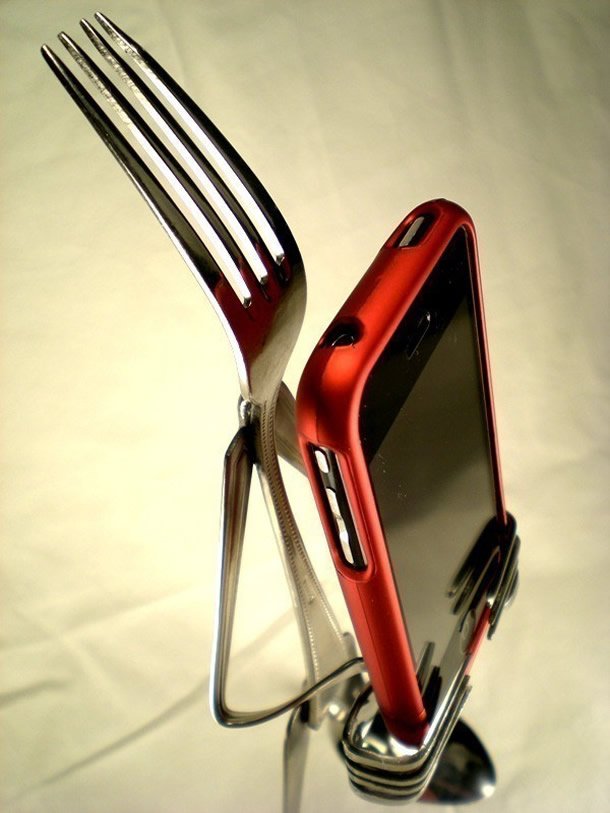 Always nice to see somebody making upcycle design / art out of everyday objects. And especially when these objects turn into an object that makes you smile. Yes I've said it before, I'm always on the look out for design or art with a fun factor. Some people say that design / art should always be serious, but I think there are already to many serious things surrounding us in everyday life. That's why I like upcycle design so much, it always has some fun factor because of the way an original item was transformed into something unique.


Well, this next upcycle design piece, made by using silverware, is definitely an object with a fun factor. And being an iPhone user I was immediately attracted by this sculpture. It's the 'iFork' by a company called Forked Up Art [I know, Forked and not that other word!]. The owner is Judson Jennings from North Salt Lake | Utah: "I am a graduate from the University of Utah in Business Administration and have used that knowledge to start my company. Forked Up Art started because some college kids couldn't find work due to the recession in 2010. They thought it would be funny to start selling little people made out of forks and spoons. I've been welding since I was 16, and have found a special ability in creative art."
Just visit his website or Etsy shop and you'll be amazed how many different Forked Up Art sculptures where made from silverware.