In the world of furniture there are some designers that have made their mark in history. They created iconic designs that even today are still produced. One of the design names I admire is Eames. My favourite chair is the Eames Lounge Chair [1956] by husband and wife Charles and Ray Eames. This chair oozes comfort. The design is still very popular and producer Vitra got permission from the Eames family to create the Eames Lounge Chair with slightly larger dimensions. Good news for tall people like myself. Disappointing is the price tag that starts at around 5000,- dollar, including an ottoman.
Looking for a more 'affordable' design chair? What about the EA 108 chair [1958] by Eames? Another classic, still around 2000,- euro. Buying an original design classic is quite expensive. You're paying for the brand, design and quality.
What has this to do with upcycle design? Well quite a lot. All these design classics influence contemporary designers and artists, both in the field of traditional design as well as upcycle design.
Industrial chain gives upcycle twist to chair classic
And today upcycleDZINE features an example of upcycle design furniture that's clearly influenced by the classic mentioned in this post. This stunning Industrial Chain Chair is a creation by Recycled Salvage Design and made out of industrial chain. Each link is welded with care which results in a robust construction. The creative upcycle company is founded by Raymond Guest and based in Longview, Texas | United States.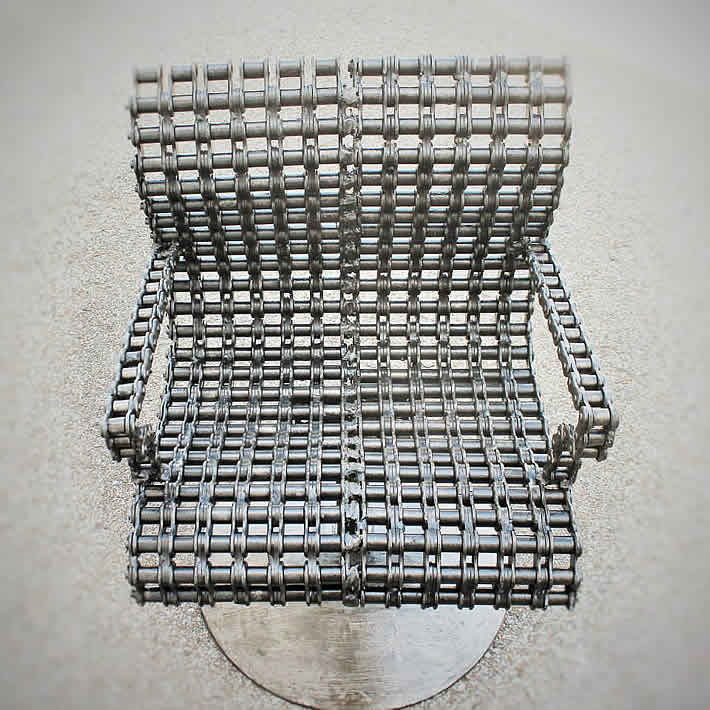 Recycled Salvage Design offers upcycle art, metal and wood furniture, interior, outdoor metal yard & garden sculpture artwork. The collection contains a wide variety of styles, all with a unique one of a kind appearance. Every creation is welded and fabricated in their own workshop in the United States.


Raymond Guest:
"We are a throwaway society. Regardless of your beliefs on environmentalism and the 'green movement', this fact cannot be denied."

Photos © Recycled Salvage Design

This industrial chain chair is an amazing piece of modern art furniture that will look great in a warehouse loft with an industrial/chic style setting.
Fantastic to see that the EA 108 chair by Eames got an upcycle design version.