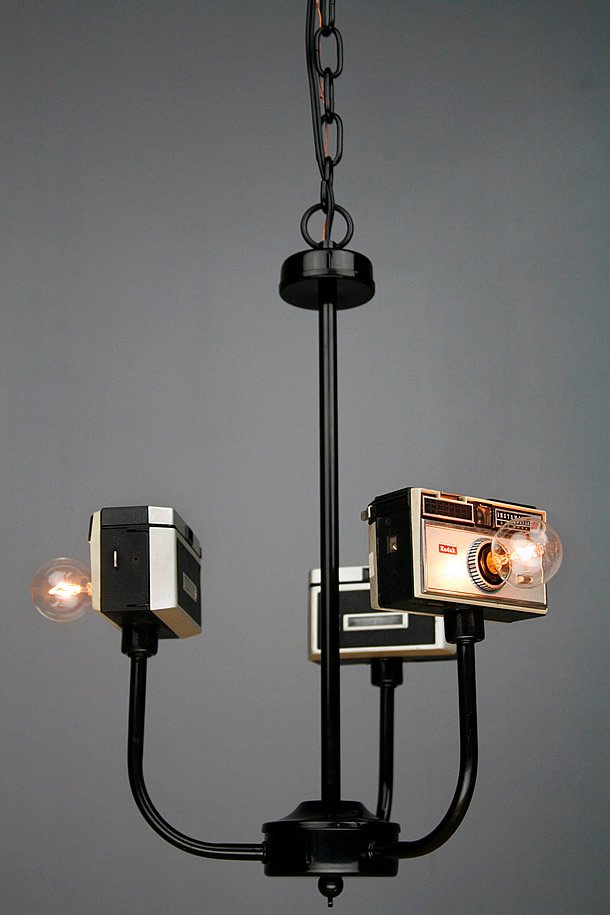 Well, I don't know about other people, but I really like photography and making photos. And talking about taking photos reminds me of the way cameras looked like a while ago. Yes before the digital age, the time where you had to put a cartridge or filmrol in a camera. Exciting times, because you had an idea how a photo would or could turn out. But you always had to wait till the finished product to see how if it really worked out.
Upcycle design turns Kodak Camera into eye-catcher
And in those days cameras looked so much different. I've still got an old one that belonged to my dad. Can't throw it away, but I'm not using it. So what can you do with it?


Here on upcycleDZINE I've posted an upcycled vintage camera turned into a fantastic desk lamp by YStudio. And now I stumbled upon this stunning eye-catcher, a Kodak Camera Chandelier by Retro Bender.

Photos © Retro Bender

Retro Bender is an Etsy shop founded by Milan Bender. Milan, a photograper and lover of the 60's and 70's, calls this design 'The most unique gift that a photographer will ever receive!'. This upcycle design was made from 3 vintage Kodak Instamatic cameras. The Instamatic was Kodak's trademark name for these easy-load 126 cartridge film cameras, they were manufactured from 1963-1988.
Milan Bender: "What would have been a dust collector on the shelf is now a functional piece of art and camera history! I have been making and selling camera lamps for over 7 years now!"
So great to see this beautiful homage to the Kodak Instamatic.
Since you're here …
I have a small favor to ask. Thousands are visiting upcycleDZINE for upcycle design inspiration every month. Readers in more than 100 countries around the world are now able to support financially.
upcycleDZINE is a completely independent niche site, is very work-intensive, and offers tons of unique information for free.
To keep upcycleDZINE running, I'm asking you for your support.
Your contribution will allow me to:
– meet the hosting costs
– upgrade to keep track of traffic increases
– add new content, and keep improving the older content
– add new functionalities to this site
– improve how it works and how it looks
– and last but not least, my daily dose of coffee 🙂
Again, all contributions will be reinvested into the aforementioned associated costs of running this blog and will help ensure the ongoing quest for quality upcycle design.
Your kindness and generosity will be greatly appreciated and will give me the motivation to continue.
Every contribution, however big or small, is so valuable for the future of upcycleDZINE.
Support today from as little as $2 – it only takes a minute. Thank you.