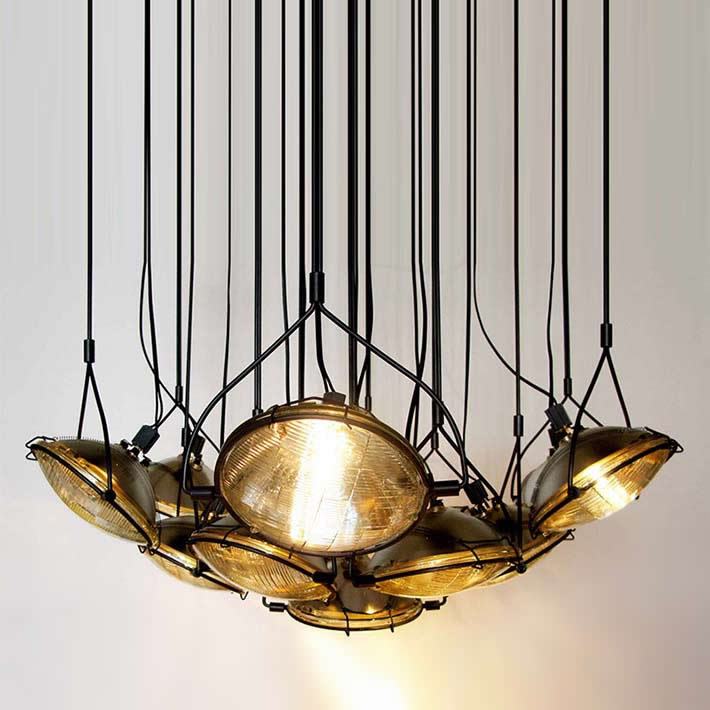 On this friday a shorter post, but not less interesting. Friday is for lots of people the last day of their workweek and therefore the last day that they've got to travel to work and back home. Also known as commuting. Commuting means, according to WikipediA: "Commuting is regular travel between one's place of residence and place of work or full-time study. It sometimes refers to any regular or often repeated traveling between locations, even when not work-related."
Two aspects related to commuting are about today's featured design. It's the word commute and cars.
Headlight as center of attraction
The upcycle design lighting piece your are seeing is a very cool design by Commute Design, a very creative design company based in Toronto | Canada. For this chandelier they upcycled a car headlight into an unique pendant. The headlight functions as center of attraction. The chandelier is called L25 and is available in configurations of 1 , 5, 7 or 13 headlights.


"Our distinctive furniture, lighting and installations are more than inanimate objects: they are living organisms designed to reflect the uniqueness of our clients, while providing a functional, timeless aesthetic. Made locally, one at a time, specifically for you."
The design company is actively engaged in how their products look and how they are made. "To do so, we keep every step of the process close to home. Our storefront doubles as a test lab, and we are continuously making conscious decisions about our suppliers, materials and manufacturing."


Photos © Commute Design

If you are looking for a cool and very special upcycle design, then the L25 chandelier might be something for you. Custom sizing and configuration are also available.