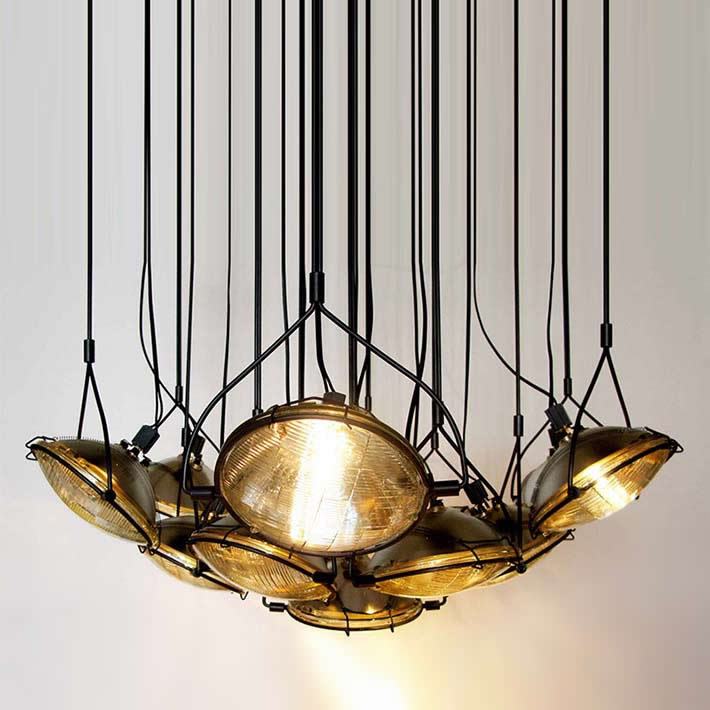 On this friday a shorter post, but not less interesting. Friday is for lots of people the last day of their workweek and therefore the last day that they've got to travel to work and back home. Also known as commuting. Commuting means, according to WikipediA: "Commuting is regular travel between one's place of residence and place of work or full-time study. It sometimes refers to any regular or often repeated traveling between locations, even when not work-related."
Two aspects related to commuting are about today's featured design. It's the word commute and cars.
Headlight as center of attraction
The upcycle design lighting piece your are seeing is a very cool design by Commute Design, a very creative design company based in Toronto | Canada. For this chandelier they upcycled a car headlight into an unique pendant. The headlight functions as center of attraction. The chandelier is called L25 and is available in configurations of 1 , 5, 7 or 13 headlights.


"Our distinctive furniture, lighting and installations are more than inanimate objects: they are living organisms designed to reflect the uniqueness of our clients, while providing a functional, timeless aesthetic. Made locally, one at a time, specifically for you."
The design company is actively engaged in how their products look and how they are made. "To do so, we keep every step of the process close to home. Our storefront doubles as a test lab, and we are continuously making conscious decisions about our suppliers, materials and manufacturing."


Photos © Commute Design

If you are looking for a cool and very special upcycle design, then the L25 chandelier might be something for you. Custom sizing and configuration are also available.
Since you're here …
I have a small favor to ask. Thousands are visiting upcycleDZINE for upcycle design inspiration every month. Readers in more than 100 countries around the world are now able to support financially.
upcycleDZINE is a completely independent niche site, is very work-intensive, and offers tons of unique information for free.
To keep upcycleDZINE running, I'm asking you for your support.
Your contribution will allow me to:
– meet the hosting costs
– upgrade to keep track of traffic increases
– add new content, and keep improving the older content
– add new functionalities to this site
– improve how it works and how it looks
– and last but not least, my daily dose of coffee 🙂
Again, all contributions will be reinvested into the aforementioned associated costs of running this blog and will help ensure the ongoing quest for quality upcycle design.
Your kindness and generosity will be greatly appreciated and will give me the motivation to continue.
Every contribution, however big or small, is so valuable for the future of upcycleDZINE.
Support today from as little as $2 – it only takes a minute. Thank you.