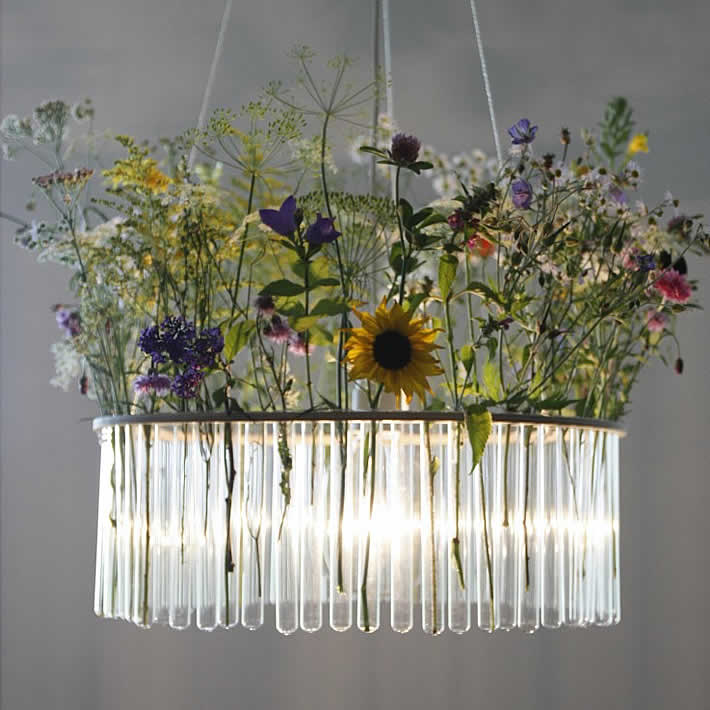 What better way to pay tribute to a Nobel prize winner than to feature a design that has a relation to a winner of the Nobel prize in Chemistry. These days the annual Nobel prizes are announced. According to de Nobel Prize website, between 1901 and 2015, the Nobel Prizes and the Prize in Economic Sciences were awarded 573 times to 900 people and organizations. The Nobel Prize is an international award administered by the Nobel Foundation in Stockholm, Sweden, and based on the fortune of Alfred Nobel, Swedish inventor and entrepreneur.
But what about upcycle design and Nobel? Well the chandelier collection you're seeing here is named after a Nobel Prize winner.
Test tubes to lighten up the room
This amazing and fun collection of upcycle design chandeliers is called Maria S.C. and is created by Pani Jurek, founded by Polish artist and designer Magda Jurek. The Maria S.C. chandelier series is made out of laboratory test tubes.


These tubes are set in one or two rings of plywood. The lamp is inspired by Polish scientist, Maria Sklodowska-Curie [1867-1934]. According to WikipediA: 'Marie Curie was a Polish and naturalized-French physicist and chemist who conducted pioneering research on radioactivity. She was the first woman to win a Nobel Prize, the first person and only woman to win twice, the only person to win twice in multiple sciences, and was part of the Curie family legacy of five Nobel Prizes.'
The chandeliers are highly customizable because the tubes are detachable. In a way you could say that they are interactive in the way they challenge the owner to create their own configuration and/or arrangement.


Magda Jurek:
"This surprising material and geometric shape makes this lamp both classic and innovative. The glass cylinder recalls Art Deco form in a unique contemporary way. The use of ready-made objects gives an appearance with a Duchamp idea."

Pani Jurek is known for design products which are non-static objects and can be changed and rearranged. Magda is always searching for other functions than the stereotypical function of a product. On Pani Jurik's website she states that her design approach is partly due to growing up in Polish prefabricated apartment blocks during the nineteen eighties. Within limited spaces, products needed to be compact and also multi-functional. She is also an advocate of sustainability. "With items which can be used in multiple ways, you can limit your purchasing needs."


Photos © Pani Jurek

The Maria S.C. chandelier is an upcycle design lamp that gives you a perfect opportunity for a visual experiment. Would be great to see what owners of this chandelier did with their lamp and test tubes to lighten up the room.
Maria S.C. chandeliers can be purchased online.