Today I'm glad to show you something very unique and totally different from what you usually see here on upcycleDZINE. First of all, it's about lace fashion and second, it's about upcycling an everyday material in a way you wouldn't expect at all. I'm talking about using the lace technique to turn electrical wires waste into fashion.
Lace fashion out of waste?
Romanian fashion designer Alexander Sipa, asked herself the following question: Why is waste rejected so quickly when there is so much potential in it?
Waste is becoming a global and environmental problem, especially electronic waste, or e-waste. According to a report from the Platform for Accelerating the Circular Economy (PACE) and the UN E-Waste Coalition, 50 million tonnes of e-waste generated every year will more than double to 110 million tonnes by 2050, making it the fastest growing waste stream in the world.
Alexandra Sipa's Central Saint Martins graduate collection is called Romanian Camouflage. She has gained design experience with Balenciaga, Oscar de la Renta, and Asai. The collection is driven by the contrast between increased economic austerity and extreme femininity in Romania.
Innovative luxury with electrical wires
The inspiration for the collection comes from her childhood. Alexandra, mentions that her mother, a lingerie designer, introduced her to fashion at a young age. Together they made cardboard cutouts of Barbies, so she could trace them on paper and draw on top of. Her mother taught her for instance how to hand-sew.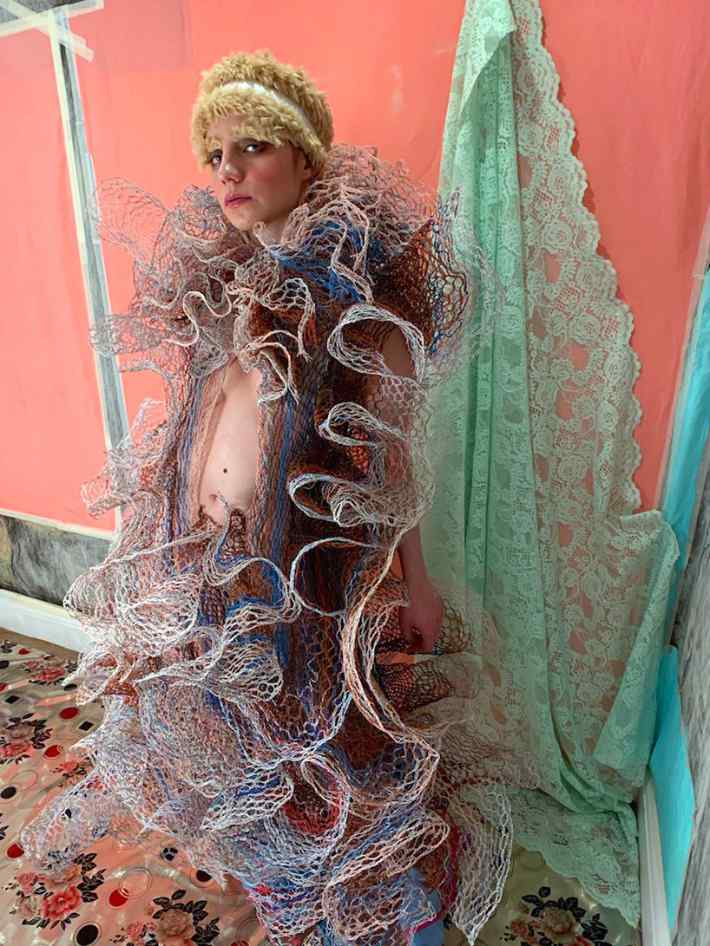 Alexandra Sipa is motivated to create innovative luxury textiles from waste while at the same time addressing both cultural and physical waste.
In her work, she creates a hybrid form of traditional Romanian lace-making with common western techniques. All made of discarded electrical wires sourced from London's recycling center Great Eastern Waste.
It's another example of what designers come op with when they set out to attack our waste problem.
Design by Alexandra Sipa
Since you're here …
I have a small favor to ask. Thousands are visiting upcycleDZINE for upcycle design inspiration every month. Readers in more than 100 countries around the world are now able to support financially.
upcycleDZINE is a completely independent niche site, is very work-intensive, and offers tons of unique information for free.
To keep upcycleDZINE running, I'm asking you for your support.
Your contribution will allow me to:
– meet the hosting costs
– upgrade to keep track of traffic increases
– add new content, and keep improving the older content
– add new functionalities to this site
– improve how it works and how it looks
– and last but not least, my daily dose of coffee 🙂
Again, all contributions will be reinvested into the aforementioned associated costs of running this blog and will help ensure the ongoing quest for quality upcycle design.
Your kindness and generosity will be greatly appreciated and will give me the motivation to continue.
Every contribution, however big or small, is so valuable for the future of upcycleDZINE.
Support today from as little as $2 – it only takes a minute. Thank you.