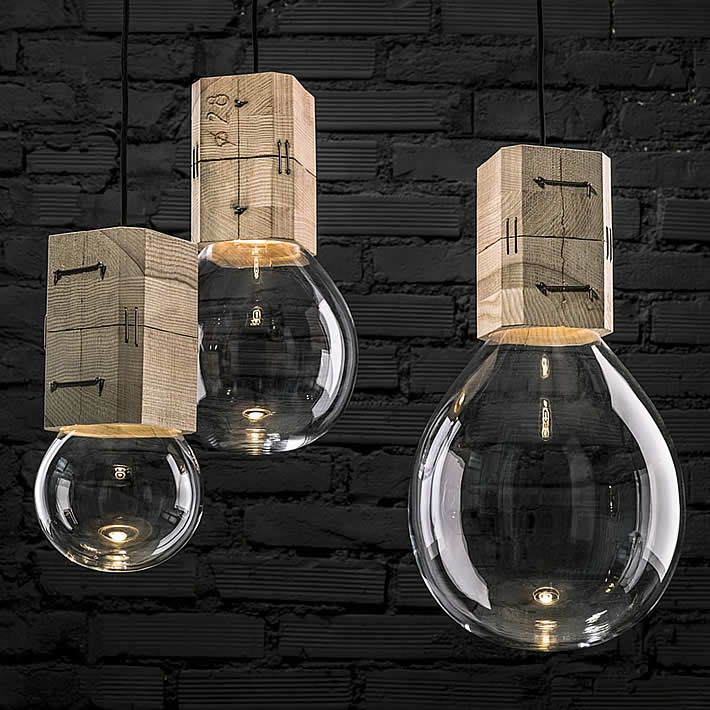 What better way to start the new year on upcycleDZINE than to show design that incorporates old and new. Of course this blog is about upcycle design which is design transformed from old, discarded objects into new. Thereby creating a second life for otherwise thrown away products. In some cases it's easy to recognize the upcycled object and in others it isn't. But one thing they all do have in common is a history and a story. And that's one of the appealing things about upcycle design.
Pure materials create a stylish contrast
And the design you're seeing here has a great history and story. The lamp collection is called 'Moulds' and it shows the upcycled object's history. The design is by Jan Plecháč and Henry Wields who met during their studies at AAAD (The Academy of Art, Architecture and Design in Prague). In 2012 they founded studio Jan Plecháč & Henry Wields based in Prague | Czech Republic.

The idea was born after they visited Lasvit where the saw this warehouse with beautiful old molds. They felt like being in a dream. They were intrigued by the contrast between the wooden molds, the shiny glass and process behind it.
"The concept of this series is based on the contrast of materials and refers to the traditional craft of crystal glass blowing into an oak mold. The fact that something so fine and pure in shape as crystal glass is formed in something so raw and fundamentally primitive as a charred glass mold fascinated us. We tried to create a light that combines the elegance of crystal with the rusticity of a wooden form clinched with iron nails. Our design reveals the harsher aspect of traditional glass making, which is hidden in the background of production."

What really attracts me in this collection is the stunning combination of these oversized glass shapes flowing out of those robust wooden blocks. Together with the contrast between the two materials this results in pure and stylish upcycle design lighting.
"Because the integrated LED source was inserted directly into the charred mold, it creates the impression that the heat and the energy of the glass furnace remain stored inside, as well as the efforts of the Czech glassmakers."
Since you're here …
I have a small favor to ask. Thousands are visiting upcycleDZINE for upcycle design inspiration every month. Readers in more than 100 countries around the world are now able to support financially.
upcycleDZINE is a completely independent niche site, is very work-intensive, and offers tons of unique information for free.
To keep upcycleDZINE running, I'm asking you for your support.
Your contribution will allow me to:
– meet the hosting costs
– upgrade to keep track of traffic increases
– add new content, and keep improving the older content
– add new functionalities to this site
– improve how it works and how it looks
– and last but not least, my daily dose of coffee 🙂
Again, all contributions will be reinvested into the aforementioned associated costs of running this blog and will help ensure the ongoing quest for quality upcycle design.
Your kindness and generosity will be greatly appreciated and will give me the motivation to continue.
Every contribution, however big or small, is so valuable for the future of upcycleDZINE.
Support today from as little as $2 – it only takes a minute. Thank you.