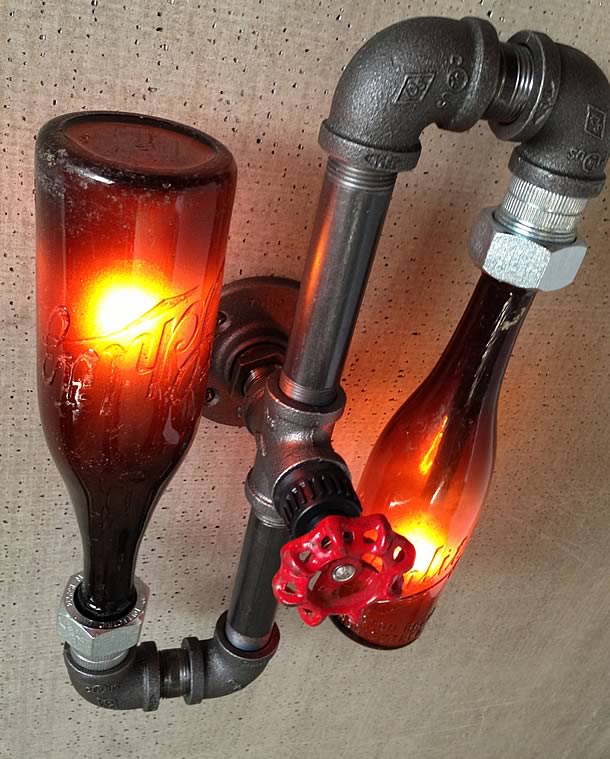 What do these upcycle designs have in common: the mbar Clock by jankodesign and KOZO by KOZO Lamp? Well they look great of course, but both these designs make use of iron piping. And last week I came across a company that also makes upcycle design lighting with use of iron piping. The company is called Peared Creation and they have quite a big collection of bottle lamps. On Etsy they have a shop called 'New Wine Old Bottles'.
Vintage bottles shine like never before
These lamps are constructed from industrial style black iron piping. The vintage bottle is firmly secured by custom rubber gaskets that grasp the bottle without causing damage. A low wattage bulb is used to illuminate the vintage amber bottle producing a warm ambient light. A rotating faucet handle serves as a switch to turn the light on and off! Power is supplied by a retro style cloth covered lamp cord and plug, a throwback to the pre-prohibition era.


Peared Creation: "We provide a one of a kind lighting solution by flipping the idea of a traditional bottle lamp on it's head. Incandescent bulbs are custom fit into vintage glass allowing us to create unique light bulbs that literally shine a light on american history. Bottles are firmly attached to black iron via industrial style couplings that unscrew for easy bulb replacement."
What is so nice about these designs is the fact they focus on a part of history by using these incredible looking vintage bottles. "We truly believe that we have an opportunity to bring the past to light. This is why we scour the area for bottles that are embossed with local brands and familiar locations. To take the concept a step further, each lamp is adorned with an informational tag that provides a brief history and a web link that users can follow for more in depth history and multimedia."


Photos © Peared Creation
Since you're here …
I have a small favor to ask. Thousands are visiting upcycleDZINE for upcycle design inspiration every month. Readers in more than 100 countries around the world are now able to support financially.
upcycleDZINE is a completely independent niche site, is very work-intensive, and offers tons of unique information for free.
To keep upcycleDZINE running, I'm asking you for your support.
Your contribution will allow me to:
– meet the hosting costs
– upgrade to keep track of traffic increases
– add new content, and keep improving the older content
– add new functionalities to this site
– improve how it works and how it looks
– and last but not least, my daily dose of coffee 🙂
Again, all contributions will be reinvested into the aforementioned associated costs of running this blog and will help ensure the ongoing quest for quality upcycle design.
Your kindness and generosity will be greatly appreciated and will give me the motivation to continue.
Every contribution, however big or small, is so valuable for the future of upcycleDZINE.
Support today from as little as $2 – it only takes a minute. Thank you.