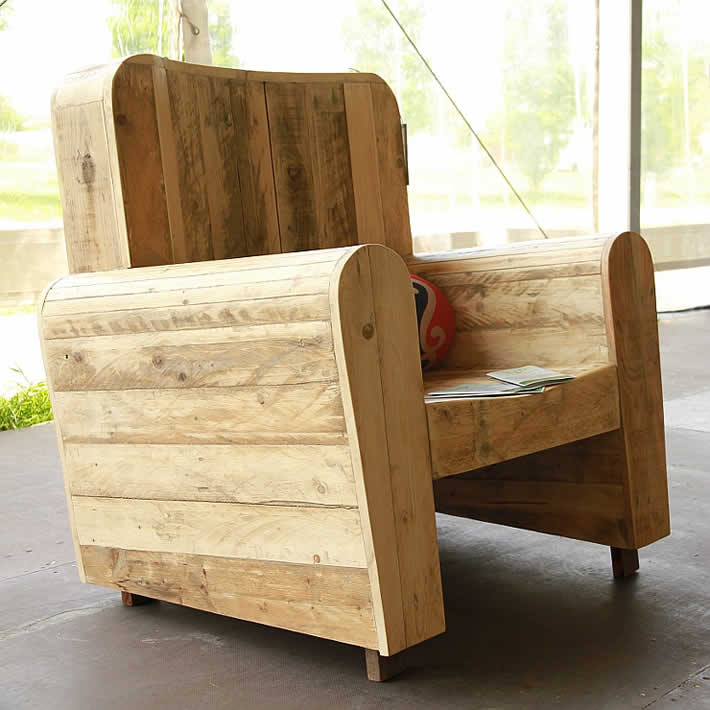 If you thought the pallet 'hype' was over, think again. Pallet wood is still very popular among upcycle designers and people who like upcycle design. Like I said last time, there're so many great upcycle designs made out of pallet wood. I'm not talking about those designers that use new pallets. No, only discarded wood. But like I said in the post about the Re-Stacked Lounger, you should be careful. On a site called earth911.com is an article about the question: are pallets safe for reuse projects? According to Candice Miller, a horticulture educator and expert from the University of Illinois Extension: "You have to consider where [the pallet] came from, what's been shipped on it and what you're going to use it for."
Comfy upcycle design armchair
Well, and to show you what designers can do with discarded pallet wood, have a look at this stylish upcycle design furniture collection. It's designed by Italian design company Redolab, based in Venice | Italy. They created a great 'Poltrona' [Italian for armchair] collection, at this moment consisting of three pieces: ROUNDED Deluxe, WOODCUBE and KING ROUNDED.


POLTRONA ROUNDED Deluxe | Photos © Redolab

They all have in common that they are entirely made out of decommissioned pallets with a designer armchair appearance. Especially the ROUNDED Deluxe is an amazing comfy upcycle design armchair with its friendly roundness.


POLTRONA WOODCUBE | Photos © Sascha Akkermann

Redolab:
"For us simple objects and every kind of waste material are resources to which a new life is given by the wise hands of the artisan's creativity."

POLTRONA KING ROUNDED | Photos © Sascha Akkermann

Redolab is created out of a passion for DIY, for handicrafts, for things done by hand and the awareness that every choice has an impact on the environment. "We interact with local companies and with those who already deal with collection and disposal of waste to create a virtuous chain and take the 'philosophy' of upcycling into a company that cares about the environment and the enhancement of our territory."
Since you're here …
I have a small favor to ask. Thousands are visiting upcycleDZINE for upcycle design inspiration every month. Readers in more than 100 countries around the world are now able to support financially.
upcycleDZINE is a completely independent niche site, is very work-intensive, and offers tons of unique information for free.
To keep upcycleDZINE running, I'm asking you for your support.
Your contribution will allow me to:
– meet the hosting costs
– upgrade to keep track of traffic increases
– add new content, and keep improving the older content
– add new functionalities to this site
– improve how it works and how it looks
– and last but not least, my daily dose of coffee 🙂
Again, all contributions will be reinvested into the aforementioned associated costs of running this blog and will help ensure the ongoing quest for quality upcycle design.
Your kindness and generosity will be greatly appreciated and will give me the motivation to continue.
Every contribution, however big or small, is so valuable for the future of upcycleDZINE.
Support today from as little as $2 – it only takes a minute. Thank you.