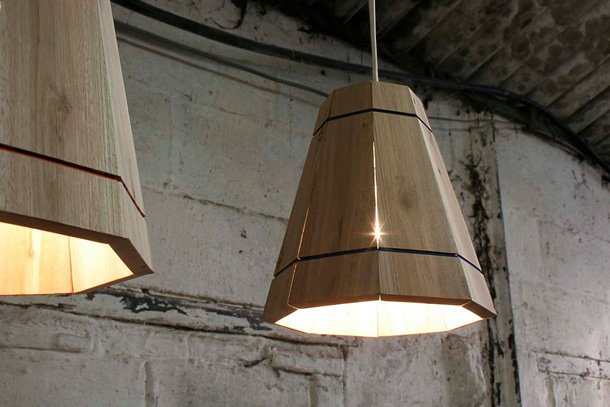 An object that is neglected by lots of people is a pallet. But we're in luck, some designers see possibilities in pallet wood. They think of stuff to do with pallet wood that most people wouldn't think of. I've seen chairs, benches, tables and now I found a company that makes Pallet Wood pendant lampshades. Nice, minimal handmade lampshades with a natural look.
Pallet wood lamp easy and fun
The design is by Factory Twenty One from Sussex | England: "We recycle all types of pallets therefore the patina and colour may vary from shade to shade but that's the beauty of the shades, no one is ever alike. Each one is hand made all the way down to the elastic, of which there is a choice of colours you can pick from to make each shade fit with your home."

Photo © Factory Twenty One

The user gets the pleasure of assembling the pallet lampshade, but unlike most self-assembling products this pallet lampshade is easy and fun, especially when you click the final piece in place. There are two sizes available to choose from, small and medium. They all come with easy to understand instructions and there's no gluing, screwing or hammering. No tools needed.
Since you're here …
I have a small favor to ask. Thousands are visiting upcycleDZINE for upcycle design inspiration every month. Readers in more than 100 countries around the world are now able to support financially.
upcycleDZINE is a completely independent niche site, is very work-intensive, and offers tons of unique information for free.
To keep upcycleDZINE running, I'm asking you for your support.
Your contribution will allow me to:
– meet the hosting costs
– upgrade to keep track of traffic increases
– add new content, and keep improving the older content
– add new functionalities to this site
– improve how it works and how it looks
– and last but not least, my daily dose of coffee 🙂
Again, all contributions will be reinvested into the aforementioned associated costs of running this blog and will help ensure the ongoing quest for quality upcycle design.
Your kindness and generosity will be greatly appreciated and will give me the motivation to continue.
Every contribution, however big or small, is so valuable for the future of upcycleDZINE.
Support today from as little as $2 – it only takes a minute. Thank you.