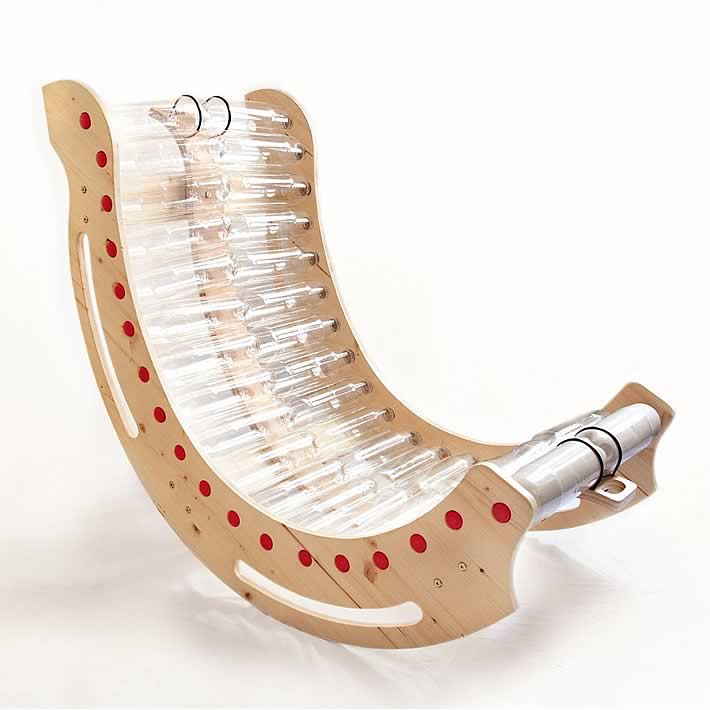 A very familiar object that lots of people throw away every day is a plastic bottle. Hopefully the bottle gets thrown in the right garbage bin for recycling. You might know by now that recycling is good but upcycling is even better. That's because, for example, upcycling reduces both energy consumption and CO2 emission. Upcycling plastic bottles, or like in my case milk containers, is a great way to show people what we normally throw away and what one could do with it.
Last week I got an email from a creative collective that is all about upcycling PET bottles for use in their designs.
PET bottle transforms into new quality product
The French collective is called PlastiKetic and tries to show us to have a different look at waste. They recover empty plastic bottles to re-design and create furniture. The purpose is not to recycle the plastic of the bottle, but the object itself in the light of its aesthetic and technical characteristics. "All our products are eco-designed, limit the impact on the environment and are enrolled in a process of upcycling, a process that involves transforming waste into a new product of superior quality."

One of their first and most popular designs is the Kuskus Chair designed by Grégory Hoogstoël. It's a convertible rocking chair / lounge chair in which the seat is made out of 36 PET bottles. In 2012 the design obtained the 'Observeur Design 2012' in Paris which recognizes innovative achievements in respect of sustainable development.

The frame of the chair is made out of wood from eco-managed forests with a vegetable oil finish. The chair, including the bottle, is 100% recyclable. The bottles used for the Kuskus Chair are slightly inflated with air to ensure maximum comfort, and if problems arise they can be easily replaced at home. Usable both indoors as outdoors, it can be easily moved thanks to the handle at the bottom of the chair. PlastiKetic will take back the product once out of use to ensure that it is properly recycled.

PlastiKetic was founded in 2011 by Romain Roclore and Grégory Hoogstoël. Their products are made in France, they involve French designers and use the best craftsmen and cabinetmakers in France for manufacturing. This ensures product quality and traceability.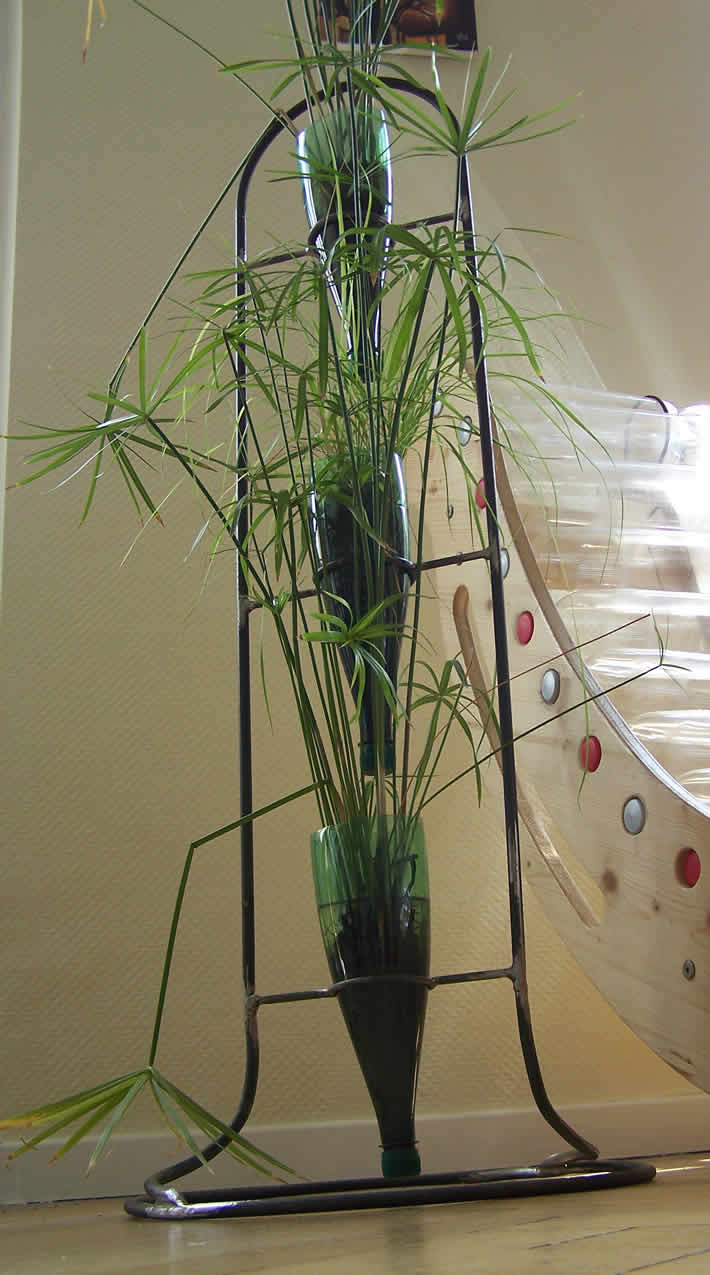 Photos © PlastiKetic

Their latest product is called Komako/atua, a vertical garden designed by Grégory Hoogstoël. The design is made out of patinated steel which combines robustness and aesthetics and three discarded plastic bottles. "The purpose of Komako/atua is to simplify your life and to give a second life to waste by using its technical characteristics."
If you like the 'vertical-garden' concept, you should definitely visit upcycleDZINE next week, because there will be another upcycle design using this concept. But, totally different!
Since you're here …
I have a small favor to ask. Thousands are visiting upcycleDZINE for upcycle design inspiration every month. Readers in more than 100 countries around the world are now able to support financially.
upcycleDZINE is a completely independent niche site, is very work-intensive, and offers tons of unique information for free.
To keep upcycleDZINE running, I'm asking you for your support.
Your contribution will allow me to:
– meet the hosting costs
– upgrade to keep track of traffic increases
– add new content, and keep improving the older content
– add new functionalities to this site
– improve how it works and how it looks
– and last but not least, my daily dose of coffee 🙂
Again, all contributions will be reinvested into the aforementioned associated costs of running this blog and will help ensure the ongoing quest for quality upcycle design.
Your kindness and generosity will be greatly appreciated and will give me the motivation to continue.
Every contribution, however big or small, is so valuable for the future of upcycleDZINE.
Support today from as little as $2 – it only takes a minute. Thank you.