I hope you've noticed by now how much plastic there is. And how much plastic we throw away every day. It is nothing short of staggering. To show you exactly what we throw away, several artists have turned to plastic waste as a resource for their upcycle art pieces. A few amazing artists are Aurora Robson and Sayaka Ganz. Another one is Parisian graphic designer and artist Bruno Lefèvre-Brauer, aka +Brauer, who created a series of upcycle portraits called Plastic Icon.
Plastic Icon is entirely made of plastic waste. A material omnipresent in our environment, threatening the planet and literally suffocating all beings. Every second, 200 kg of plastic is dumped in the oceans, more than 100,000 marine mammals die every year, and if we go on like this, there will be more plastic than fish in the oceans by 2050.
Through a series of 2Oth century iconic portraits, +Brauer tackles this material by meticulously assembling hundreds of discarded plastic pieces from toys, pens, bottles, packaging to mundane objects of our daily lives. All these pieces/parts have different sizes and colors. They are carefully chosen, collected and classified. Each piece remains with its original color, untouched, as it was found.
Plastic Icon consists of amazing portraits. And they are both interesting and mesmerizing as well. From an accumulation of scattered pieces, at first, the eye sees each element independently, but like a giant puzzle, looking at it from a distance, an image or a face suddenly appears. By assembling each piece according to a specific pattern, the artist brings them back to life and gives them a new meaning and perspective. It's amazing how much detail is in these portraits.
In these large-format works [80x8O cm], +Brauer plays with iconic figures as he presents his personal vision of resistance to overconsumption.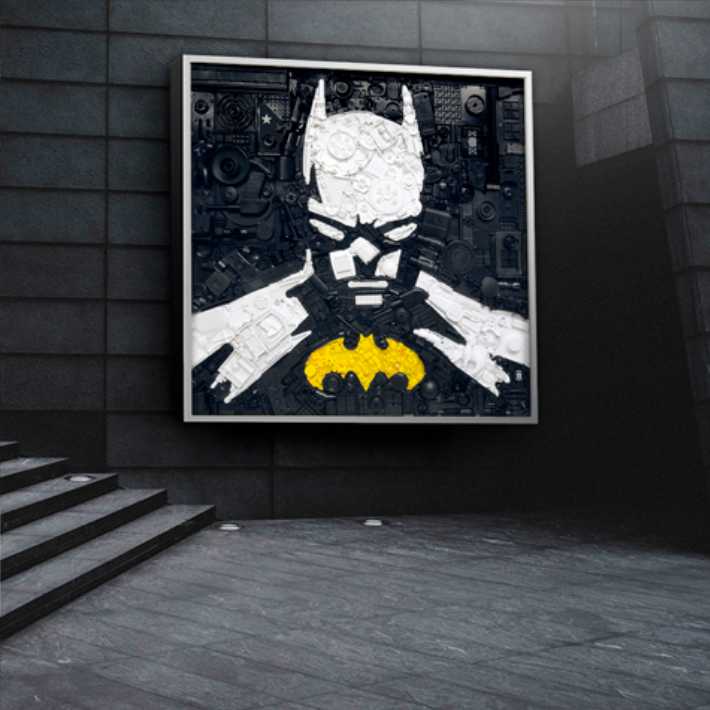 He demonstrates his social commitment through an artistic approach. Upcycling is key in the way he wants to convey his intended message, no matter what material is used
Design by +Brauer
Since you're here …
I have a small favor to ask. Thousands are visiting upcycleDZINE for upcycle design inspiration every month. Readers in more than 100 countries around the world are now able to support financially.
upcycleDZINE is a completely independent niche site, is very work-intensive, and offers tons of unique information for free.
To keep upcycleDZINE running, I'm asking you for your support.
Your contribution will allow me to:
– meet the hosting costs
– upgrade to keep track of traffic increases
– add new content, and keep improving the older content
– add new functionalities to this site
– improve how it works and how it looks
– and last but not least, my daily dose of coffee 🙂
Again, all contributions will be reinvested into the aforementioned associated costs of running this blog and will help ensure the ongoing quest for quality upcycle design.
Your kindness and generosity will be greatly appreciated and will give me the motivation to continue.
Every contribution, however big or small, is so valuable for the future of upcycleDZINE.
Support today from as little as $2 – it only takes a minute. Thank you.