Finally, it's skateboard time. Time again to publish upcycle design made out of used skateboard decks. You may know by now that upcycleDZINE is a great fan of skateboards. The way the boards look and the performed tricks are very interesting and attractive to me. For many skateboarding has become a way of life, a way to express themselves.
During their lifetime these decks are being 'beaten and battered'. There's a great way to recycle discarded skateboard decks, but even better, many designers find ways to upcycle them into stunning design. Have a look at these 14 upcycle design ideas using skateboards.
Over 30 old skateboard decks assembled
Today I'm so happy to add another design to this collection. And why am I so happy? Well because it's the first time on upcyclDZINE a bicycle is featured that is made out of old skateboard decks. During my preparations for my visit to the Dutch Design Week 2017 in Eindhoven, I stumbled upon this amazing and very cool upcycle design piece.


The name of this project is ReRide, a creation by a Dutch studio called Oosting Design, founded by product designer/furniture maker Frank Oosting. For his graduation he wanted to build a functional product out of waste material. A Bike made out of recycled skateboard decks! It took over 30 old skateboard decks to assemble this bicycle. This urban bike accommodates a kickshift gear and breaking system, so no cables are needed!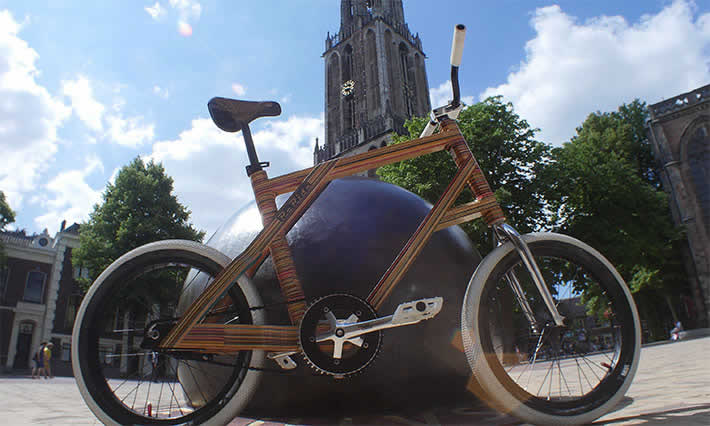 Frank Oosting:
"In the end I decided to combine my passion for skateboarding, bmx riding and design into one product."

Photos & video © Oosting Design

Oosting Design focuses mainly at functional design, simplicity and custom build products. ReRide is a beautiful and impressive showcase of Frank's craftsmanship. And again it's great to see what one can do with discarded skateboard decks.