Finally, it's skateboard time. Time again to publish upcycle design made out of used skateboard decks. You may know by now that upcycleDZINE is a great fan of skateboards. The way the boards look and the performed tricks are very interesting and attractive to me. For many skateboarding has become a way of life, a way to express themselves.
During their lifetime these decks are being 'beaten and battered'. There's a great way to recycle discarded skateboard decks, but even better, many designers find ways to upcycle them into stunning design. Have a look at these 14 upcycle design ideas using skateboards.
Over 30 old skateboard decks assembled
Today I'm so happy to add another design to this collection. And why am I so happy? Well because it's the first time on upcyclDZINE a bicycle is featured that is made out of old skateboard decks. During my preparations for my visit to the Dutch Design Week 2017 in Eindhoven, I stumbled upon this amazing and very cool upcycle design piece.


The name of this project is ReRide, a creation by a Dutch studio called Oosting Design, founded by product designer/furniture maker Frank Oosting. For his graduation he wanted to build a functional product out of waste material. A Bike made out of recycled skateboard decks! It took over 30 old skateboard decks to assemble this bicycle. This urban bike accommodates a kickshift gear and breaking system, so no cables are needed!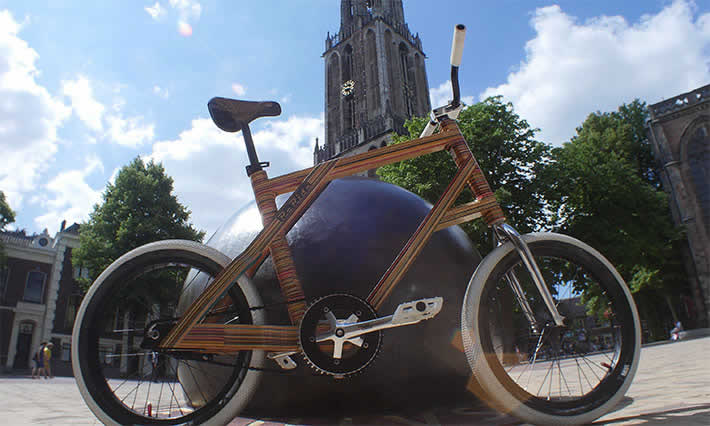 Frank Oosting:
"In the end I decided to combine my passion for skateboarding, bmx riding and design into one product."

Photos & video © Oosting Design

Oosting Design focuses mainly at functional design, simplicity and custom build products. ReRide is a beautiful and impressive showcase of Frank's craftsmanship. And again it's great to see what one can do with discarded skateboard decks.
Since you're here …
I have a small favor to ask. Thousands are visiting upcycleDZINE for upcycle design inspiration every month. Readers in more than 100 countries around the world are now able to support financially.
upcycleDZINE is a completely independent niche site, is very work-intensive, and offers tons of unique information for free.
To keep upcycleDZINE running, I'm asking you for your support.
Your contribution will allow me to:
– meet the hosting costs
– upgrade to keep track of traffic increases
– add new content, and keep improving the older content
– add new functionalities to this site
– improve how it works and how it looks
– and last but not least, my daily dose of coffee 🙂
Again, all contributions will be reinvested into the aforementioned associated costs of running this blog and will help ensure the ongoing quest for quality upcycle design.
Your kindness and generosity will be greatly appreciated and will give me the motivation to continue.
Every contribution, however big or small, is so valuable for the future of upcycleDZINE.
Support today from as little as $2 – it only takes a minute. Thank you.