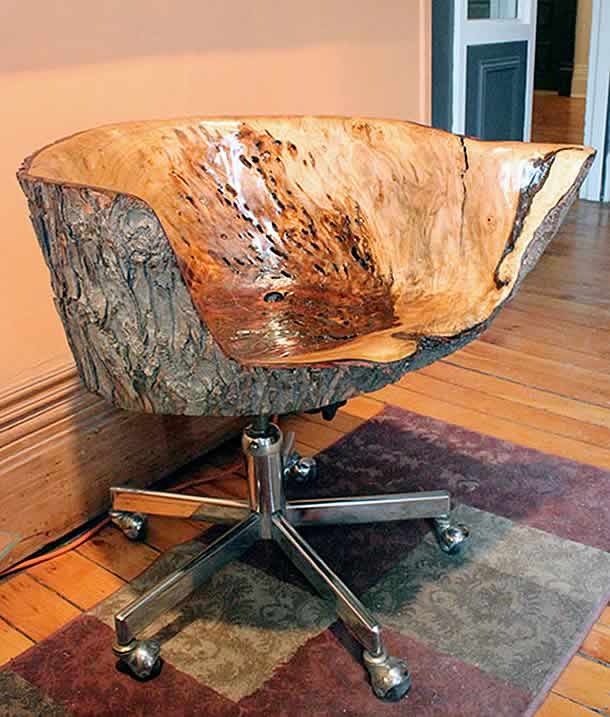 When I think of upcycling materials I don't think of nature right away. And with nature I mean natural objects, thinks you can find in nature not made by man. And although it might not be top of mind, natural objects can be very inspiring and can result in fantastic and stunning looking upcycle design.
A chair with a real natural look and feel
And today's featured design shows you what I mean by stunning. It's a beautifully crafted handmade chair by Rong Design, founded by Jennifer Rong, based in Toronto | Canada. "This one-of-a-kind salvaged maple sculpted chair is made from a salvaged maple stump hollowed out into a seat with a high gloss resin finish to mimic the look of maple sap. The exterior is entirely covered in bark and has been left raw and unfinished to create a more rustic feel. Surprisingly comfortable and feels like you're sitting in a maple tree!"
Rong Design, Etsy store, specializes in one of a kind, upcycled, handmade pieces ranging from furniture to housewares to jewelry made from reclaimed wood and found/vintage materials with emphasis on aesthetics, function and sustainable production.


Photos © Rong Designs

This one-of-a-kind salvaged maple sculpted chair with bark was part of a new collection of bark pieces, created specifically for an exhibit in January 2014.
The combination of materials and objects used for this upcycle design shows such an astonishing contrast with a real natural look and feel. Without a doubt this chair is an eye-catcher in any home.