The digital age in which we live in is changing very fast. And it changes the products we use and stop using. There are a few upcycle designs here on upcycleDZINE showing what I mean. Just have a look at upcycle design made out of CDs or paper books. I know, books are 'old' and they are replaced by ebooks. But CDs belong to the digital age and even those are getting old too. In a time where more and more data is streamed, there's less need for CDs.
And a CD is just one example of what this digital transformation can do to a product. What about cables? I'm using less data cables then I did 5 or 10 years ago. More devices use wireless data transmission. Last year Starbucks started using Powermats to wirelessly charge your smartphone. McDonald's, Ikea and Lexus also offer their customers wireless recharging. So what to do with an old cable charger?
Recharge your old cable charger
Earlier this year Samsung introduced their latest smartphones, Galaxy S6 and Galaxy S6 edge. Both offer a new feature, they've got wireless charging. Well, not completely wireless because you still need to put your phone on a charger dock that uses a cable. But charging is wireless so old cable chargers become redundant. So what to do with them?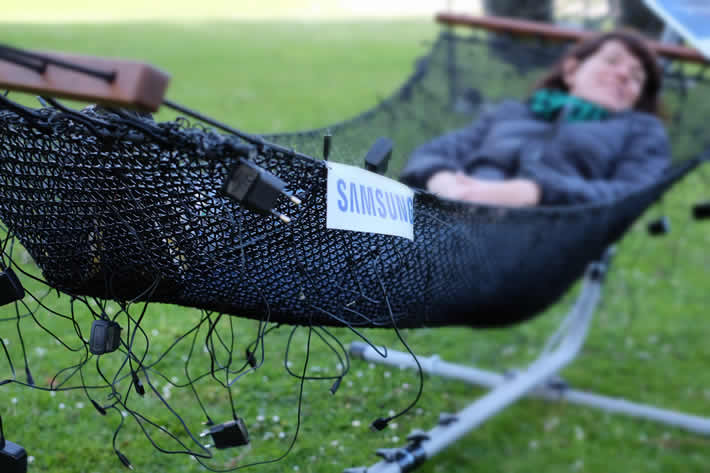 As part of the 'Recharge Yourself' campaign, Samsung Belgium contacted Belgian upcycle designer Evy Puelinckx, founder of Het Vindingrijk. On the Samsung site Evy says: "When I was contacted by Samsung to achieve something with cable chargers, I did not hesitate. Unused equipment is, somehow, a gift from heaven for me. Many people have cables at home they would like to get rid of. Our appeal was a resounding success. The result is there and people are happy to see that the waste materials they have sent us have been turned into something much prettier."

For this project Evy asked people to hand in old cable chargers. After two months she collected over 3 km of wire to create reclining chairs for display at Meise Botanic Gardens near Bruxelles | Belgium. With the help of countless phone charger-sponsors and 20 fantastic upcyclers to knit/weave, they produced 10 hammocks, 10 hanging seats and 30 handbags.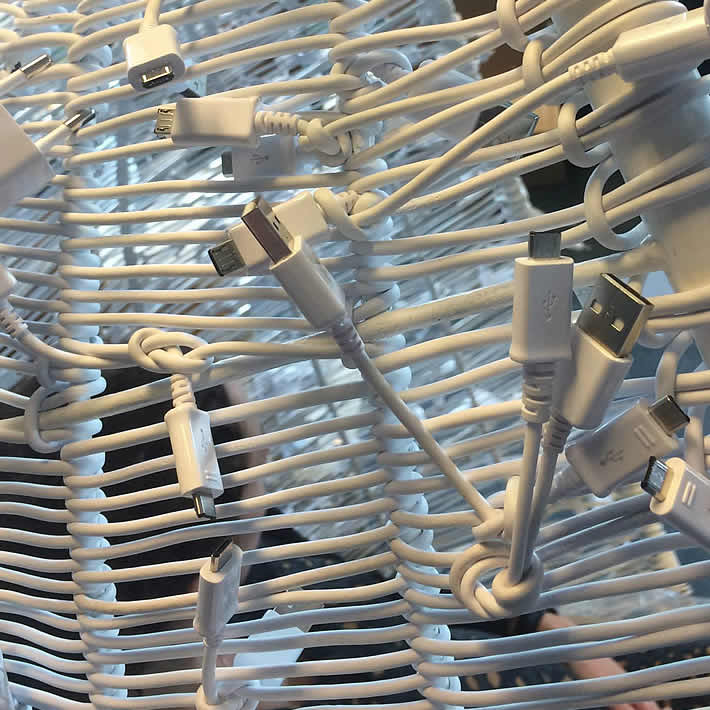 Photos © Evy Puelinckx

Looking at the photos I think they did an incredible job and made in into a very successful project with amazing upcycle design. Never thought that I, an Apple enthusiast, would be so excited about a 'Samsung product'! But I'm definitively charmed by the hanging seat with all the chargers sticking out at the back. A very nice touch.
The Samsung Recharge Yourself campaign was developed at Leo Burnett Brussels.

Video © Samsung