Lots of people visit flea markets looking for nice objects like a vase or painting. But there's also a person that visits them and looks for objects that consist of multiple small parts. For instance a typewriter, clock or old bicycle. His name is Edouard Martinet and he's the creator of the amazing sculptures you see in these photos.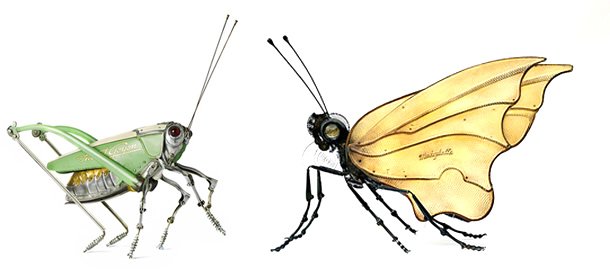 Butterfly. 25″ x 14″ x 22″ H. Legs: bike brake parts, pieces of windshield wipers, bike chains / Abdomen: old acetylene light tank / Thorax: car suspension part, small spoon parts, cream chargers / Head: headlights, bike parts / Butterfly trunk: clock springs / Hair: pieces of a typewriter daisy wheel / Antennae: brake cables, drawer knobs. Photos © Sladmore Contemporary

It's just incredible and stunning to see so much detail in these insect, fish and animal forms. Edouard Martinet lives in Brittany, France, studied design at L'Ecole Superieure des Arts Graphiques Architecture, one of the 'grandes ecoles' in Paris, elite academies reserved for the most gifted students.
Chance to see these sculptures up close
I think the best way to appreciate his work is to see his work up close. Edouard Martinet opened a new exhibition at Sladmore Contemporary in London, November 27 through January 31, 2014. On his website you can see his pieces from the exhibition and older pieces.


Wasp. (Glass only : 8″ cm diameter X 19″ H) (Total : 9″ X 13″ X 31″ H) Abdomen : steel tips for boots, bike headlights / Thorax and head : steel tips and bells from bikes and typewriters / Eyes : vintage watch case / Antennae : spectacles arms / Legs : bike brakes , bike chain , spoon handles / Wings : glass. Photo © Sladmore Contemporary

According to Gerry Farrell, Director of Sladmore Contemporary: "His degree of virtuosity is unique: he does not solder or weld parts. His sculptures are screwed together. This gives his forms an extra level of visual richness – but not in a way that merely conveys the dry precision of, say, a watchmaker. There is an X-Factor here, a graceful wit, a re-imagining of the obvious in which a beautifully finished object glows not with perfection, but with character, with new life. Martinet takes about a month to make a sculpture and will often work on two or three pieces at the same time. It took him just four weeks to make his first sculpture and 17 years for his most recent completion!"
Leaves me to say that normally I don't really enjoy insects, but when I saw these sculptures I could only admire them. They are so elegant.
Since you're here …
I have a small favor to ask. Thousands are visiting upcycleDZINE for upcycle design inspiration every month. Readers in more than 100 countries around the world are now able to support financially.
upcycleDZINE is a completely independent niche site, is very work-intensive, and offers tons of unique information for free.
To keep upcycleDZINE running, I'm asking you for your support.
Your contribution will allow me to:
– meet the hosting costs
– upgrade to keep track of traffic increases
– add new content, and keep improving the older content
– add new functionalities to this site
– improve how it works and how it looks
– and last but not least, my daily dose of coffee 🙂
Again, all contributions will be reinvested into the aforementioned associated costs of running this blog and will help ensure the ongoing quest for quality upcycle design.
Your kindness and generosity will be greatly appreciated and will give me the motivation to continue.
Every contribution, however big or small, is so valuable for the future of upcycleDZINE.
Support today from as little as $2 – it only takes a minute. Thank you.