There's almost no object that can't be upcycled. I'm someone who thinks of lighting ideas, but lots of others come up with furniture/homeware ideas. And if I may say so, there are some pretty amazing upcycle designs here on upcycleDZINE. Ranging from reclaimed wood to upcycled radiators and car parts. And today this blog is adding a few more ideas to the latter category.
Tractor with a curious twist
This time it's another means of transportation, a farmer TRACTOR. Yes, not something you would think of right away. And maybe not something you would think of putting in your interior. But seeing these upcycle design pieces may change your opinion.


This tractor collection is designed by Smithers of Stamford, based in Etton | UK and founded by Nick Smith. He took vintage farmer tractors and upcycled them into nostalgic pieces of retro furniture.


Massey Ferguson Limited is a major manufacturer of agricultural equipment. Massey Ferguson was founded in 1847 in Newcastle, Ontario | Canada. In the early 20th century, they sent old manufacturing equipment worldwide to other countries, including farmer tractors.
And now some of these recognizable tractors are getting a second life. The collection consists of a table, desk, bookshelf and a stunning bar. They vary in finish due to the upcycling nature of the materials used.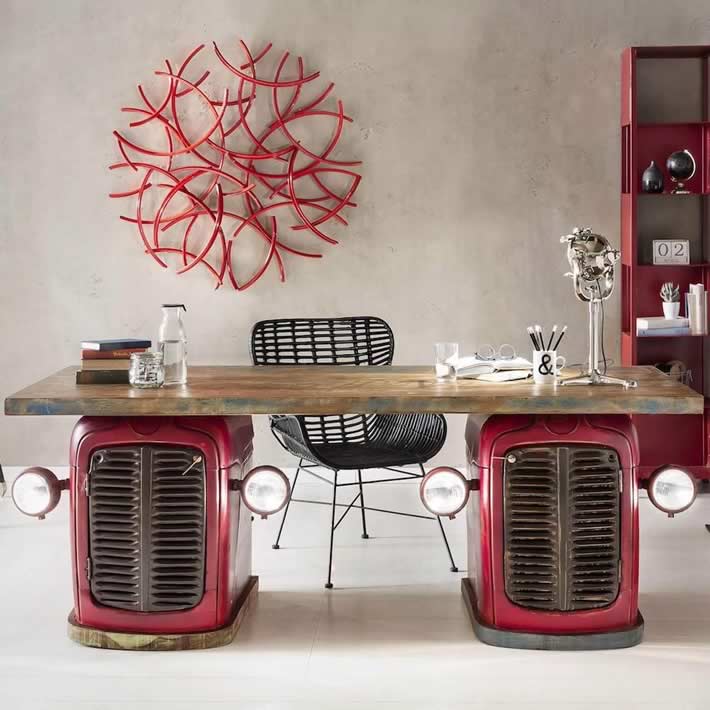 Smithers of Stamford is an online vintage, industrial, retro furniture and lighting store set up out of sheer frustration at not being able to source good quality designer furniture on the high street and a strong love for interior design that verges on the outrageously funky and quirky!


Photos © Smithers of Stamford

This tractor furniture collection is surely unusual, but in any interior it will be a great conversation piece! So if you're looking for furniture that features a unique and curious twist on the contemporary, than this may be something for you.